KENILWORTH HISTORY & ARCHÆOLOGY SOCIETY – January 2017 Newsletter
» Last Meeting: Before we indulged ourselves in an orgy of food and drink, Chairman Jan pronounced the Siege well and truly commemorated by dotting the 'I's and crossing the 'T's of the Dictum and the overall settlement. She answered the outstanding questions about where Young Simon got to, and how the country settled back to normal rule. The meeting greatly appreciated her useful and very appropriate resumé.
» Tonight: Gillian White will enlighten us on Bess of Hardwick.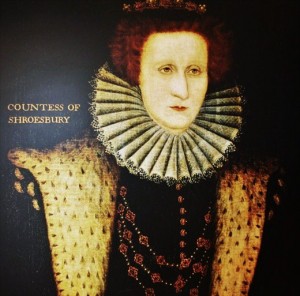 » Next month, Feb 13th is the AGM. All officers and committee members are to be (re)elected, one new committee member being needed since Sue Tyler has proffered her resignation. Please hand your nomination form, suitably signed, to the Secretary no later than the 25th of this month. After the formal meeting, our Webmaster, Chris Blunt, will speak about "KHAS on the Web". He may surprise us all! All at the usual time of 7.30 for 7.45 at the Senior Citizens' Club.
»»»» Subscriptions fall due now. Please see the Treasurer as soon as you can. There is no increase on last year: £10 single; £15 double. Kenilworth History 2017 is now with the printers and will be ready for issue next meeting. «««
» Kenilworth Family History Society Wednesday, 8 February. Dr Sarah Richardson, whose previous talk on Warwickshire Women in the Suffrage Movement was a highlight, returns to talk about 'Crime & Punishment in the 19th Century', which should be particularly interesting for family historians whose forebears might have had experience of courts and the penal system in the past. Contact 511969. Senior Citizens' Club, Abbey End, Kenilworth, CV8 1QJ, from 7.30. Non-members welcome
» Kineton Local History Group: Friday 20th January – Banbury during the first Civil War 1642 – 1646  by Gregg Arthur   7.30 in the Village Hall
» Warwickshire Local History Society: Tuesday 21 February 2017 The history of the NHS in Warwickshire and the West Midlands Start at 8.00pm, preceded by coffee at 7.30pm, in The Friends' Meeting House, 39 High Street, Warwick, CV34 4AX
» CADAS: 14th February Buildings, Burials and Bones Lecturer: Vicky Score 7.30pm at Friends' Meeting House, Hill Street, Coventry
» Warwickshire Geological Conservation Group: Wednesday 18th January, meeting at 7pm for coffee before a 7.30pm start. The speaker will be Dr Ralf Gertisser from Keele University on The Volcano that changed the world; Tambora and the great eruption in 1815
» Solihull Ancient History Club in association with Millennium Tours have arranged a 5 day tour of some of the outstanding French early Gothic churches from 14 to 18 June. The leader is Simon Monckton an eminent and entertaining specialist on medieval architectural history. Flights from Birmingham and coach travel throughout. Full details from Janet Ainsworth, mail@janetainsworth.plus.com, Tel 01926748140.
» Next year's programme can be found on the Website here and will be in Kenilworth History 2017 when you get it.
The Society still needs a new Editor, and a compiler of the Newsletter. Please speak to the Chairman if you think you can help.
Contacts: Chairman – 01676 532654; Secretary – 01926 858670; Treasurer – 01926 852655; Vice Chairman & Editor – 01926 858090 Website www.khas.co.uk