KENILWORTH HISTORY & ARCHÆOLOGY SOCIETY – June 2017 Newsletter
Guide Books

Richard Morris was an inveterate collector of guide books, particularly of places of architectural note. Jenny has so many of them that she is offering them to Members of the Society for free. Tonight you will find another batch. We suggest that you take what you want and perhaps make a donation (monies will be shared between the Harry Sunley Memorial Project and Myton Hospice where both Harry and Richard died). Please – the guides must go!
» Last Meeting: Mathew Morris's account of the location of Greyfriars in Leicester was a bit like a detective story, certainly very absorbing and, it turns out, rewarding. It was a valuable addition to Richard Buckley's side of the Richard III saga.
» Tonight: Jan Cooper is following in "The Footsteps of the White Monks".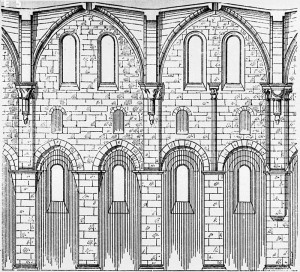 » Next month: is our July evening 'walk about' on the 10th We will meet on Bridge Street near the entrance to Abbey Fields car park at 7pm and will be out for about 1½ hours. There is a charge of 50p for parking at Abbey Fields during the evening.
The main events of the evening will be a visit to the Fire Station on School Lane where we will be able to view their historic artefacts and will hear a short talk on the history of the Fire Station from their longest serving fire-fighter. We will then go to Chapel Yard cottages to view the exterior of the cottages and the heritage plants in the garden, and where information will be available on the history of the cottages and their previous occupants.
At both locations we will collect donations for their respective charities; The Fire-fighters Charity and for Blood Cancer treatments. Please bring some change if you would like to contribute to these worthwhile charities.
We will also stop to view some other places of historic interest along our route. Everybody is welcome – we hope you can join us!
Our August outing will take place on Saturday 19th August when we will be visiting three very lovely churches – Halford, Tredington and Honington. Directions – meet at Halford Church for at 11am, bring a picnic or visit Halford Bridge Inn for lunch, followed by visit to Tredington and Honington Churches during the afternoon. Chairman Jan will talk about both Halford and Honington Churches and donations at each church would of course be much appreciated. At Tredington we will be given a talk/tour by a member of Friends of Tredington Church and Jan will collect a donation of £2 per person for this church before we arrive at Tredington. Parking at all three locations is very very limited so please get together and car share to keep the number of vehicles to a minimum. If you would like to come along, a 'signing up' list is available this evening. Final details and directions will be sent out to everyone participating nearer the date.
» Another date for your diaries – there will be a guided walk of Kenilworth Abbey ruins on Sunday 30th July at 3pm in support of the Annual Festival of Archaeology. Anyone is welcome to come along – meet Jan outside the museum.
» Kenilworth Family History Society Wednesday, 14 June 2017 Kenilworth Family History Society chairman Norman Madden is a volunteer room guide at Baddesley Clinton and will give a talk about 'The Widow, the Virgin, and Jesuit Priests at Baddesley Clinton' recounting the story of the priest-hunters' raid there in 1591. Senior Citizens' Club, Abbey End, Kenilworth, from 7.30. Please note that this talk will be given to the KHAS in September
» Kineton Local History Group: The next indoor meeting is in September. For the interesting outings during the summer, please "Google".
» Warwickshire Local History Society: Saturday 17 June 2017 King's Norton: a visit to the 2004 BBC Restoration competition winners. We will explore the mediaeval and early modern complex (including the Old Grammar School, the Saracen's Head and the Tudor Merchant's House).
» CADAS: Next meeting in the autumn
» Warwickshire Geological Conservation Group: See Website: www.wgcg.co.uk
It is worth looking at the websites of the various societies to see what is happening over the summer break – most of them involve outings.
A new exhibition has opened at Kenilworth Castle, which celebrates the work of automotive innovator John Davenport Siddeley, 1st Baron Kenilworth, the founder of Armstrong Siddeley Motors who bought the castle in 1937, and placed it in the care of the Ministry of Works in 1938. The website to visit is:
www.english-heritage.org.uk/visit/places/kenilworth-castle/things-todo/speedpower/
If any member is involved in research on Kenilworth at the moment, please contact the Chairman or Vice-chairman as there may be a source of help available in making the job easier.
Replacement Editor still needed!
Contacts: Chairman – 01676 532654; Secretary – 01926 858670; Treasurer – 01926 852655; Vice Chairman – 01926 858090 Website www.khas.co.uk