Kenilworth History 2022 – 60th Anniversary Edition
The latest KHAS annual booklet Kenilworth History 2022: Recent Research into Local History is now available, priced £5 or free to members. This is a special 60th Anniversary edition, commemorating the foundation of the KHAS in 1962.
Once again, our contributors have been very busy, despite the ongoing Covid lockdown. This year's edition comes has a very respectable 104 pages, so there's even more fascinating material than the previous year, which was a record length in itself!
As ever, Kenilworth History 2022 will be available for purchase from Kenilworth Books in Talisman Square, following the AGM on February the 14th. It will also be available from the Abbey 'Barn' Museum & Heritage Centre, when it reopens.
The contents of this years edition are as follows. We start with a fascinating series of articles by Nick King and Robin Leach about W. H. Draper (featured on the cover image, above) and his account of the 1891 excavation of the Abbey, followed by Nick's analysis of the various extensions to the St Nicholas' churchyard over the years. Next, an article by Chris Blunt about nine long-depopulated mediæval villages around Kenilworth. David Brock ponders the reason behind Alexander Neckham's visit to Kenilworth Abbey in 1213. Chairman Jan Cooper brings us a transcript documenting the visit of naturalist and explorer Joseph Banks to Kenilworth in 1768. Joanna Illingworth writes about Joseph Crouch's designs for Fieldgate Lane.
Then there's another article from Chris Blunt about the etymology of some weird and wonderful names of historic features and fields around the town. George Evans-Hulme provides some valuable guidance on the use of references in history articles. Nick Green provides something of a rarity in these pages – a tale of maritime disaster! Paul and Sally Newsome have penned an insightful article about the family home at Elmdene. Henny Denny writes of the treasures to be found at nearby Twycross church. And finally Norman Stevens has contributed an item for the record regarding the death of the Very Reverend Derek Hole.
We hope you enjoy this bumper edition and wish you a happy and healthy 2022!
---
Kenilworth History on CD – 1981 to 2015
A CD containing every issue of Kenilworth History from 1981 to 2015 (inclusive) is now available. It has on it also a file of all the 'Tables of Content', six spreadsheets of those contents sorted by date, author, title, and three subject categories, and one continuous file of all the KHs so that it can subjected to a wordsearch from beginning to end – a really valuable resource for any researcher. The Society is charging £5 a CD, which, if you consider that people in the Town bought over 60 copies of KH2015 alone for £5 from the Bookshop, is incredibly good value for money: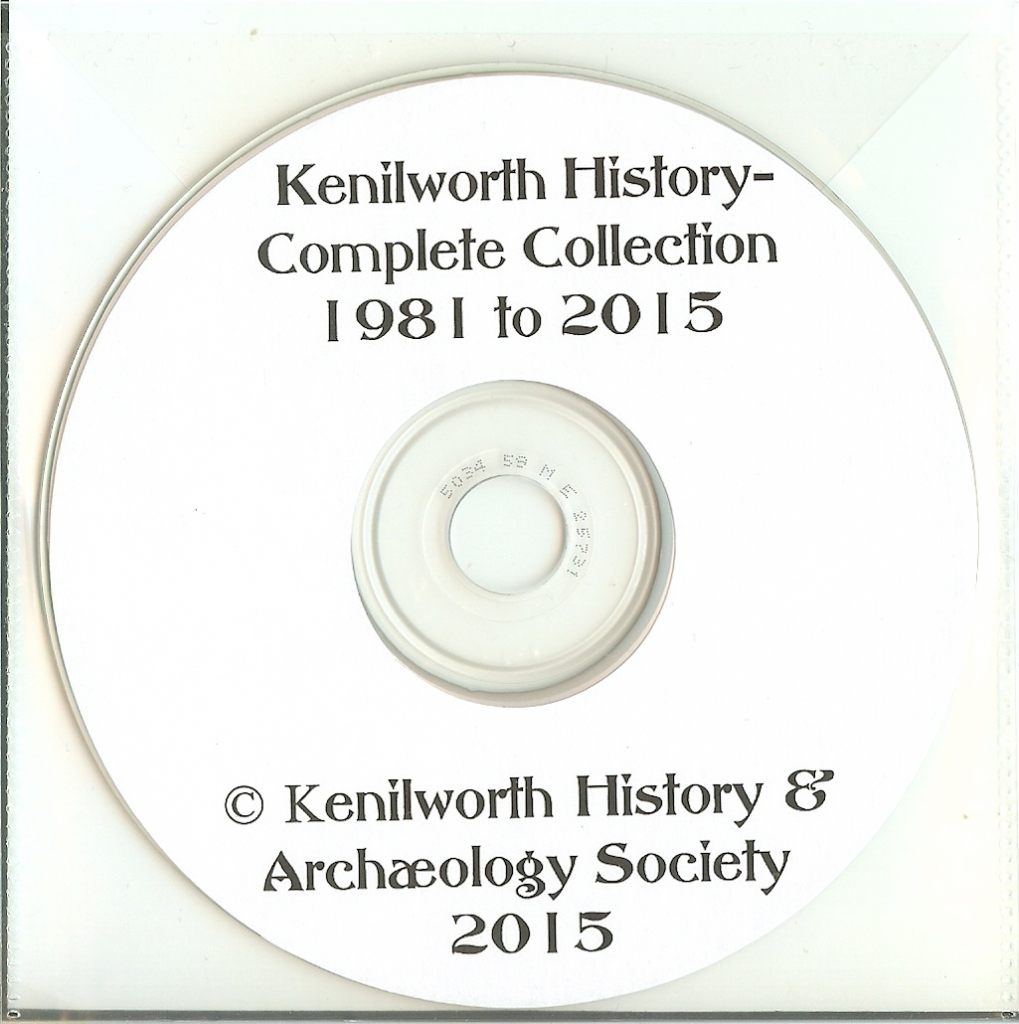 ---
The Siege of Kenilworth – 750th Anniversary Programme
The Siege of Kenilworth – 750th Anniversary Programme is still available from various sources, including Kenilworth Books in Talisman Square:
---
A Guide to the Historic Town of Kenilworth
Some years ago the Society produced a guidebook covering the historic sites of Kenilworth, which is still available from various sources, including Kenilworth Books in Talisman Square: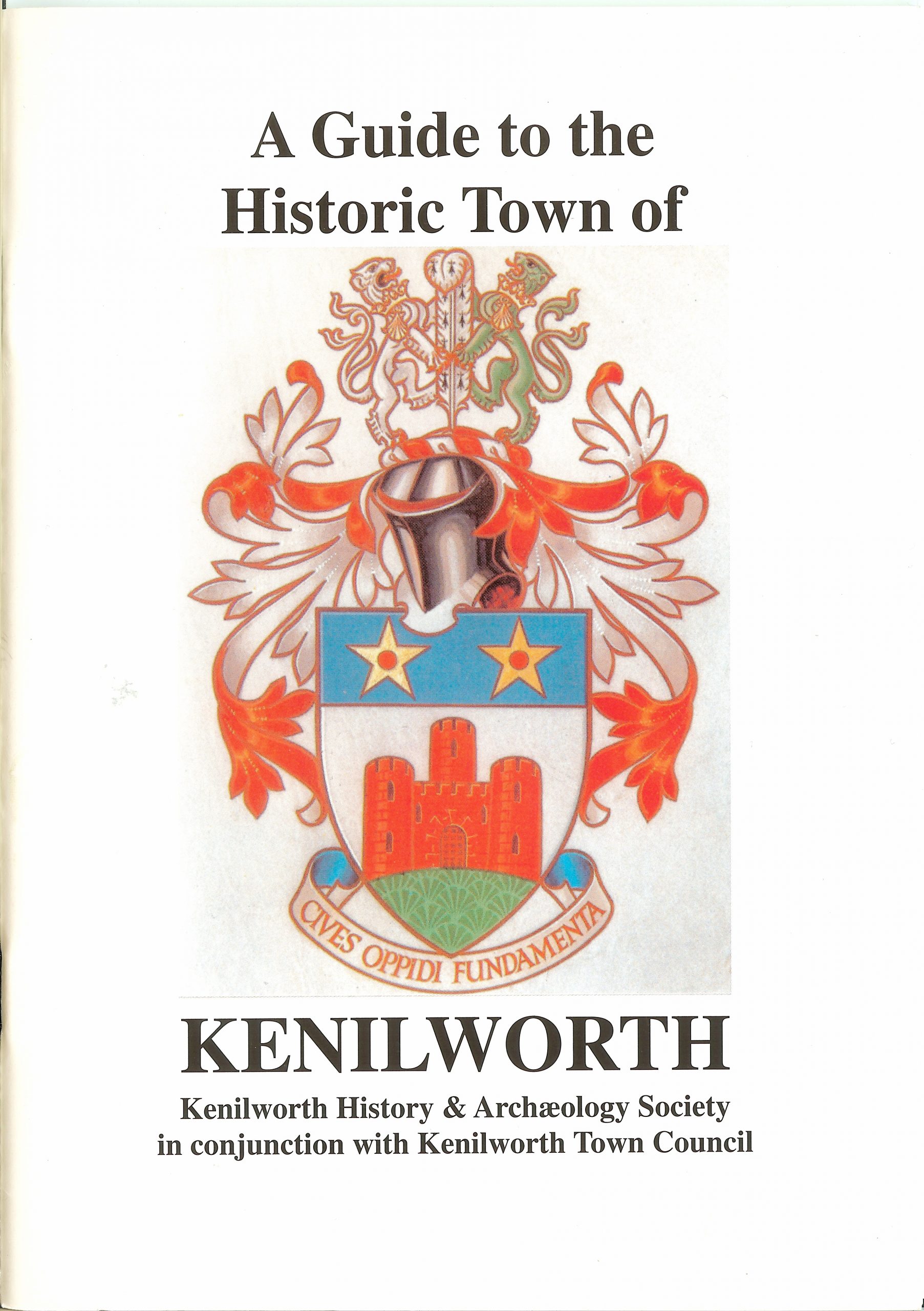 ---
Other Pamphlets
A number of pamphlets are available at a nominal fee, as well as books at a discounted rate, at KHAS meetings – see the KHAS programme page for details of where and when these take place.