Kenilworth History 2023
The latest KHAS annual booklet Kenilworth History 2023: Recent Research into Local History is now available, priced £5 or free to members.
As ever, Kenilworth History 2023 will be available for purchase from Kenilworth Books in Talisman Square, following the AGM on February the 14th. It will also be available from the Abbey Museum & Heritage Centre, when it reopens at Easter.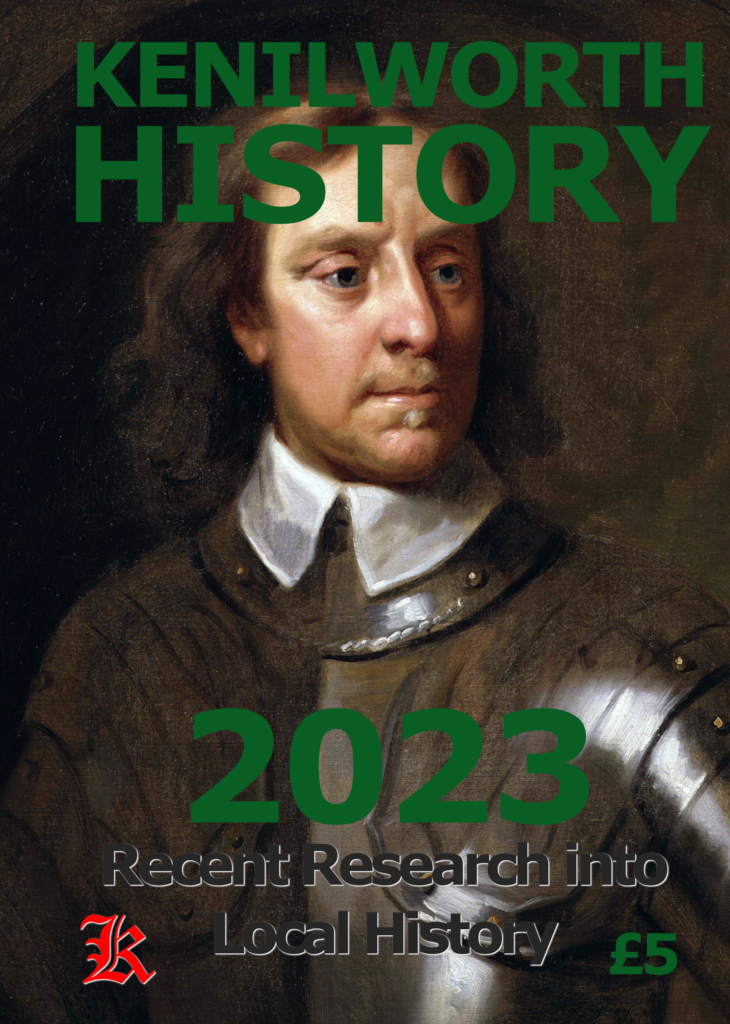 The articles in this year's edition cover a broad continuum of Kenilworth's long history. In loose reverse chronological order, we have the following themes covered:-
Firstly, an article concerning an historic artefact which was still in situ in living memory, but had to be saved from destruction by one of our very own members: the tumbledown stile in the Abbey's Tantara gatehouse. Cyril Hobbins, aided and abetted by Nick Green, revisits the history of this wonderful artefact and how Cyril rescued and restored it from near destruction by vandals. It remains on show today in the Abbey Museum & Heritage Centre, thanks to Cyril's preservation work. 
Next, Nick King has painstakingly researched the various phases of the Tiltyard, from the slighting of the castle's defences in the mid-17th century, right up until present day. He has studiously assembled a timeline of etchings and paintings of the area, over the last few centuries, to produce a complete timeline of its breaching and subsequent damage by flooding in the 19th century. In doing so, he challenges some old assumptions, and indeed the writings of some highly esteemed commentators, about the destruction of the Castle mere's mighty dam.
Peering back further into the mediaeval, we have a duo of articles from David Brock and Henny Denny which seek to uncover details of the long-dispersed library of the Abbey of St Mary, Kenilworth. Given that the Abbey's huge stone structure has been largely destroyed, to the point that unobservant passers-by might never know it existed at all, it is incredible that fragile manuscripts from within it have survived the wanton destruction and can still be scrutinised, to provide new insight into the studies of the canons today. And, yet, David and Henny's articles show that there remains yet more to be said on the topic. David brings us an article on Prior John Strecche's copy of the 12th century, 4000 line, Latin poem Speculum Stultorum ("A Mirror for Fools") and what it has to say on the nature of wisdom and foolishness. On a similar topic, Henny Denny writes for us about the tantalising survival of extracts from Eutropius' 4th century brief history of Rome, entitled Breviarium, which survives amongst pages of the Kenilworth canons' collection, and are now to be found in the Berlin Library, of all places! Henny muses on what this tells us about the breadth of the syllabus of learning available in the Abbey at its peak.
David Brock has also been busy on the topic of the three dams of the Castle, Priory and Woodmill water mills. David has expertly pulled together years of research, much of it penned by himself for previous editions of Kenilworth History, and distils it neatly for us here. What was the line of the brook before their construction? How were they constructed? Where was their associated weir? Where was the site of their mill? When was their millpool finally drained? These mills were major mediaeval Kenilworth features and David is to be commended for his expertise and continued insight into this topic.
Finally, an article from Chris Blunt, which is an attempt to determine what we know about Kenilworth before Domesday. Frustratingly, we have no documentary evidence about the town before 1086, but it is my contention that we can still infer what the identity and allegiances of a person living hereabouts might have been.
We hope you enjoy Kenilworth History and wish you a happy and healthy 2023!
---
Kenilworth History on CD – 1981 to 2015
A CD containing every issue of Kenilworth History from 1981 to 2015 (inclusive) is now available. It has on it also a file of all the 'Tables of Content', six spreadsheets of those contents sorted by date, author, title, and three subject categories, and one continuous file of all the KHs so that it can subjected to a wordsearch from beginning to end – a really valuable resource for any researcher. The Society is charging £5 a CD, which, if you consider that people in the Town bought over 60 copies of KH2015 alone for £5 from the Bookshop, is incredibly good value for money: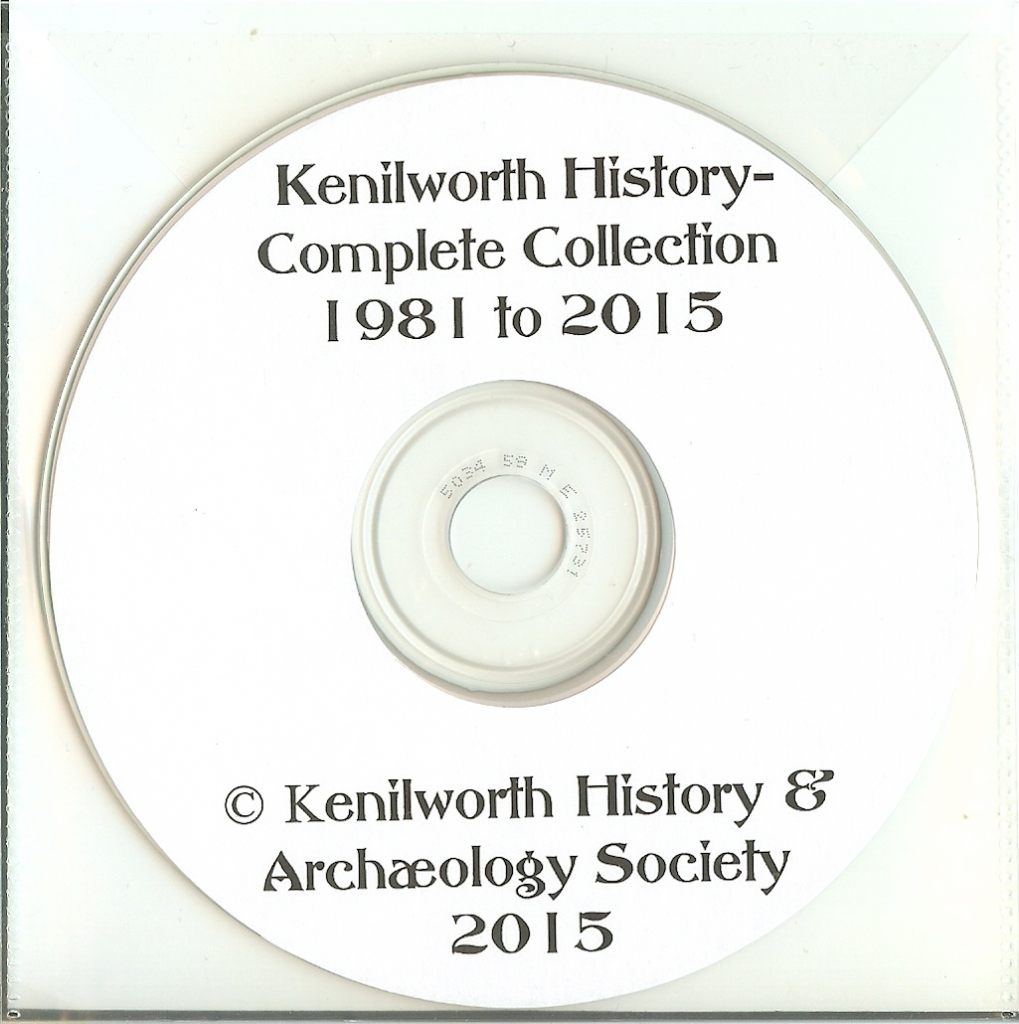 ---
The Siege of Kenilworth – 750th Anniversary Programme
The Siege of Kenilworth – 750th Anniversary Programme is still available from various sources, including Kenilworth Books in Talisman Square:
---
A Guide to the Historic Town of Kenilworth
Some years ago the Society produced a guidebook covering the historic sites of Kenilworth, which is still available from various sources, including Kenilworth Books in Talisman Square: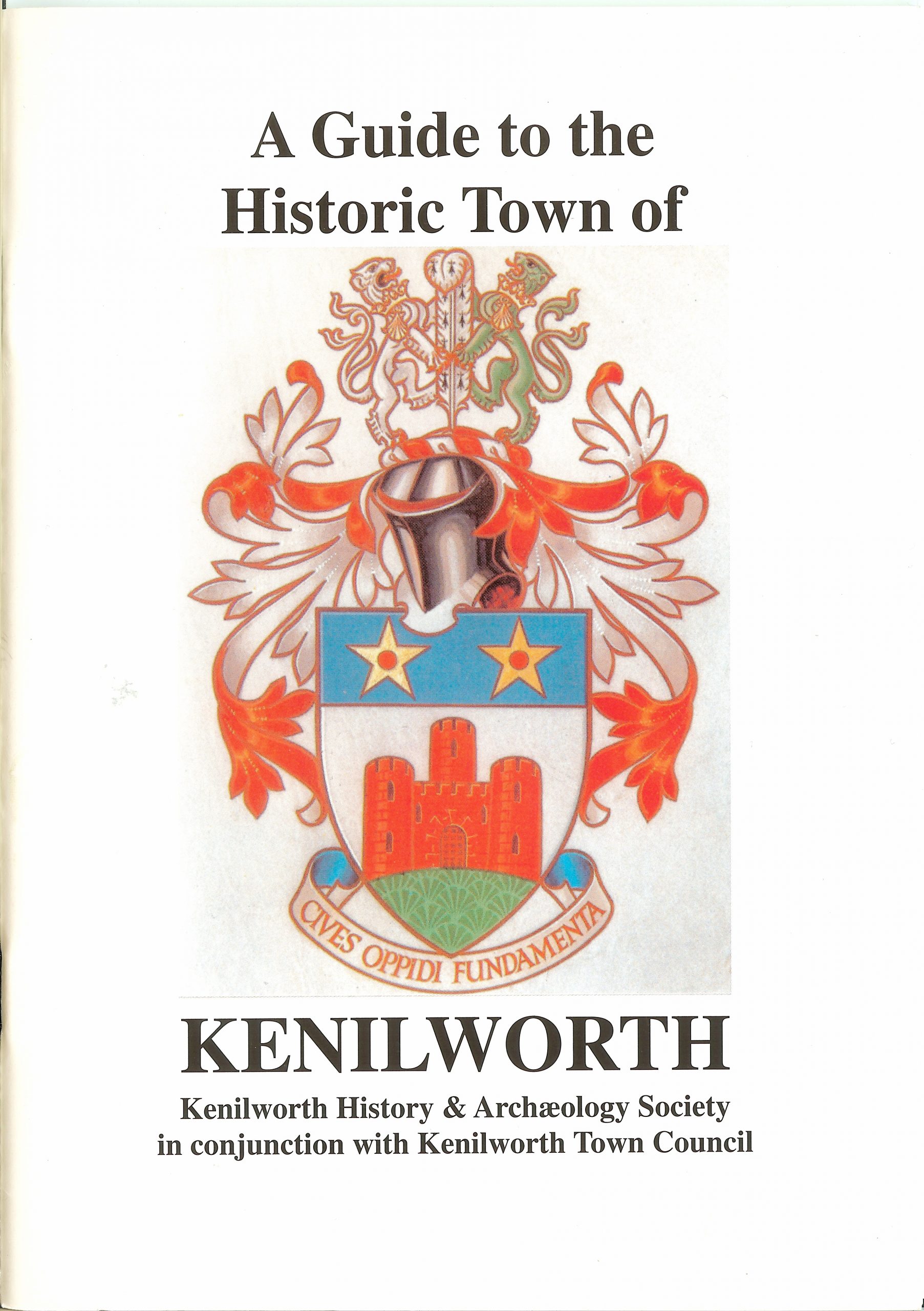 ---
Other Pamphlets
A number of pamphlets are available at a nominal fee, as well as books at a discounted rate, at KHAS meetings – see the KHAS programme page for details of where and when these take place.