KENILWORTH HISTORY & ARCHÆOLOGY SOCIETY – March 2017 Newsletter
Guide Books

Richard Morris was an inveterate collector of guide books, particularly of places of architectural note. Jenny has so many of them that she is offering them to Members of the Society for free. Tonight you will find another batch. We suggest that you take what you want (no fighting!) and make a donation. Monies will be shared between the Harry Sunley Memorial Project and Myton Hospice. Please – they must go!
» Last Meeting: was the AGM. All officers and committee members were (re)elected, and one new committee member, Sue Martin, was elected to take the place of Sue Tyler who had proffered her resignation. After the formal meeting, our Webmaster, Chris Blunt, spoke about "KHAS on the Web". He surprised us with his account of how popular the site was and how many and what sort of people were accessing it!
» Tonight: Dr Bob Pryce will speak on "Some aspects of Stereo Photography in Warwickshire"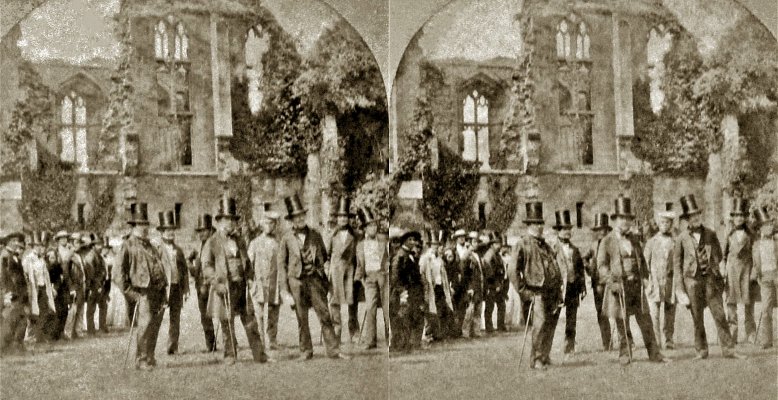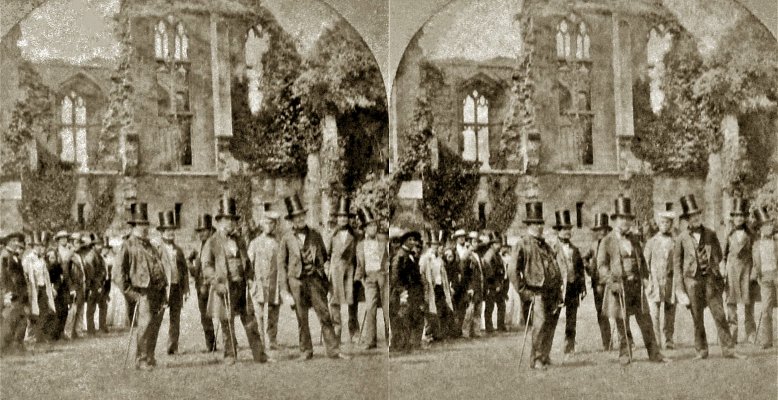 » Next month: Dr Sylvia Pinches will give us an account of Maria Home, housekeeper to the Earls of Warwick. April 10th, at the usual time of 7.30 for 7.45 at the Senior Citizens' Club.
Subscriptions are now due.
Dates for your diaries: Our July evening 'walk about' will take place on Monday 10th July when we will be looking at points of historic interest in the Bridge Street area. More details nearer the time.
Our August outing will take place on Saturday 19th August when we will be visiting three very lovely churches – Halford, Tredington and Honington. More details next month, when those interested will also be able to 'sign up'.
» Kenilworth Family History Society Wednesday, 12th April. Annual Business Meeting, to be followed by short talks by members on aspects of their family history research. Senior Citizens' Club, Abbey End, Kenilworth, CV8 1QJ, from 7.30. Nonmembers welcome.
» Kineton Local History Group: Please see website
» Warwickshire Local History Society: Tuesday 21 March, 2017 AGM 7.30pm, Dr. Andrew Hopper, Senior lecturer and civil wars expert at Leicester University's Centre for English Local History, Bereavement and loss in the civil wars in Warwickshire. Start at 8.00pm, preceded by coffee at 7.30pm, in The Friends' Meeting House, 39 High Street, Warwick, CV34 4AX
» CADAS: 14th March: Professor Mark Jobling: Genetic approaches to the History of the British Isles. 7.30pm at Friends' Meeting House, Hill Street, Coventry
» Warwickshire Geological Conservation Group: Monica Price from the Oxford University Museum of Natural History will talk on the Corsi Collection of decorative stones. Wednesday 15th March at S Francis' Hall, 7pm for 7.30pm
Replacement Editor still needed!
One of the suggestions for a walkabout this year includes spending some time at the Fire Station in School Lane, on the site of the primary school. The Kenilworth Volunteer Fire Brigade served the time admirably over the years. Part of its success was the cameraderie of its members. Cementing that was meeting for a communal meal – as is shown here in the Re-union Dinner of November 1935. It is sobering to think of the situation in Kenilworth just five years later. The table cards for that dinner are shown below.

Kenilworth Volunteer Fire Brigade Re-union Dinner of November 1935 page 1

Kenilworth Volunteer Fire Brigade Re-union Dinner of November 1935 page 2
Contacts: Chairman – 01676 532654; Secretary – 01926 858670; Treasurer – 01926 852655; Vice Chairman & Editor – 01926 858090 Website www.khas.co.uk