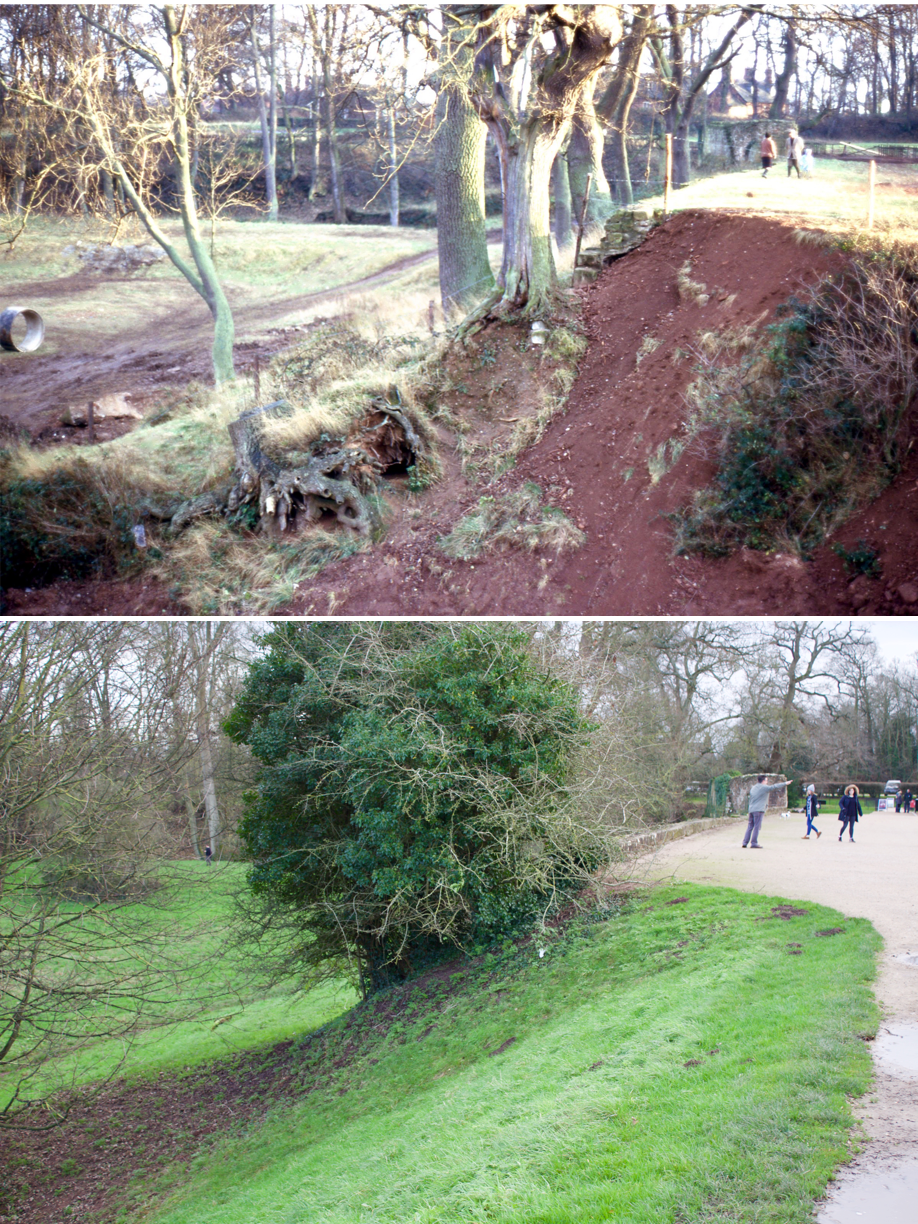 The 'then' photo shows the preparations for filling in a gap in the castle's Tiltyard by the Ministry of Public Building and Works in 1964 . The restored Tiltyard entrance opened in 1967, replacing the lower walkway which sits beside the Tiltyard.
The dam was probably constructed in three phases; initially circa 1125, then subsequently raised by King John and lastly the western lane and bridge possibly 17th century. It is not known when the castle's great defensive lake, created by the dam, was first called a Mere nor when the breach, shown here being repaired in 1964, was first called Hawkesworth's Gap.
At the end of the Civil War in 1649, Cromwell's Parliamentarians were determined to ensure that the former Royalist strongholds would never again provide a safe haven for those who opposed the new republican parliament's powers. So, Colonel Joseph Hawkesworth, MP was appointed to 'slight' or damage the castle beyond repair and it is said he breached the Tiltyard to drain the mere as part of the slighting.
Two former breaches through the dam can now be seen, the first at the lowest point where the Brook now flows and the second at the spillway location. The latter was shown in an earlier T&N photo of John Drew & Charles Blick on the stonework of the possible Tiltyard Mill Leat. It is not known when either breach was formed. However, the general ground level at the Spillway was about four metres above the Brook so the Mere could not have been fully drained and returned to farmland use by this breach.
Hawkesworth took possession of the remainder of the castle, converting and living in the gatehouse, having also slighted the keep and sold off much of the fixtures and fittings of the palatial state rooms. He was ousted from the castle following the restoration of Charles II.
Many thanks to David Brock for his assistance in putting the accompanying text together. His work on this subject is too extensive to summarise here, but readers can find further contributions by David in the society's annual Kenilworth History publication, such as his article "Development of the Fourth Side of the Castle" in KH2015.