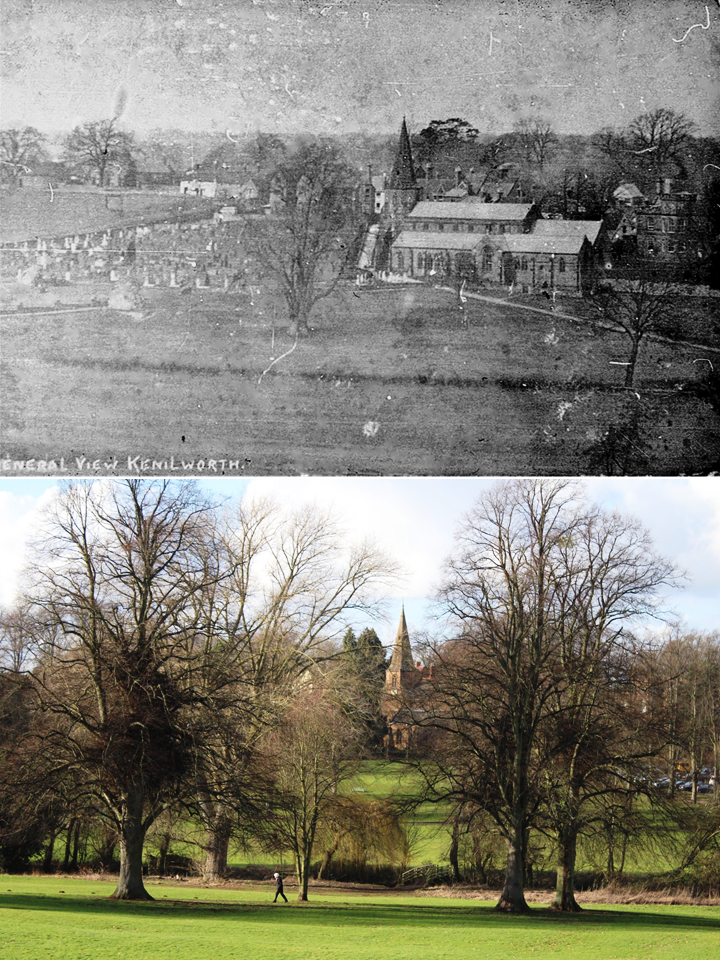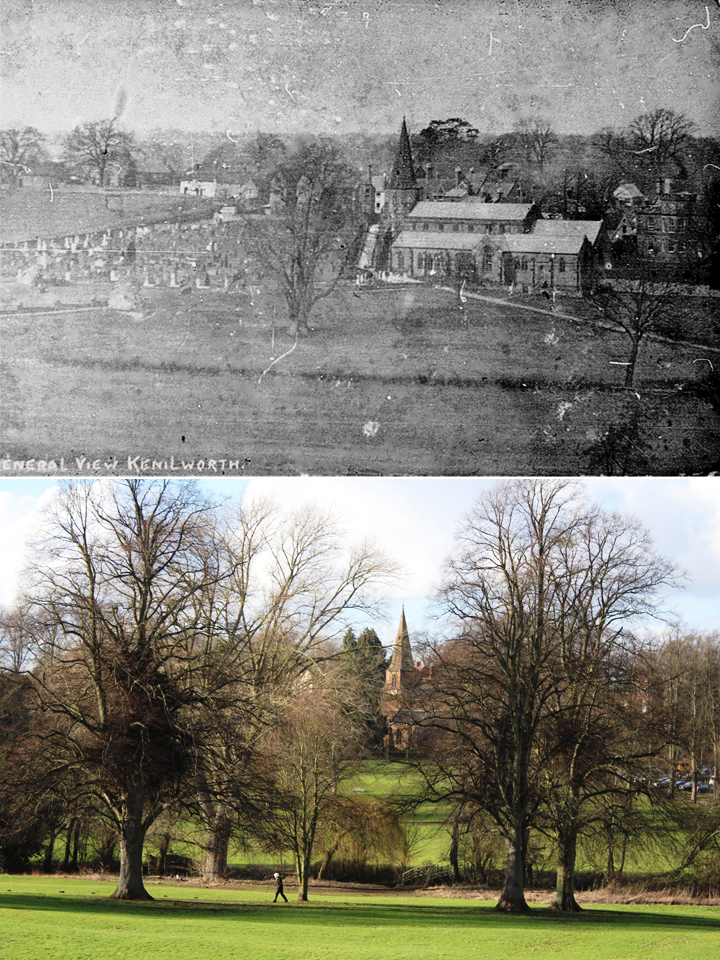 One thing that is apparent when trying to recreate Then & Now pictures is how much leafier today's scenes are than those of yesteryear. Sometimes it's difficult to match the exact vantage point for the 'now' photo because it would result in a photo containing a wall of foliage that obscures the scene to be captured! This is definitely the case with the Then & Now pairing above.
The 'then' photo shows a late Victorian long shot of St Nicholas' Church and the Abbey Fields with an equivalent modern image taken from the top of the grassy embankment on Rosemary Hill. Today there is a line of trees along Finham Brook which would completely obscure this view in mid-summer, so the 'now' photo was taken in early February 2017 to at least get a line of sight to the church spire. In the foreground of both photos the line of Finham Brook can be seen.
The 'then' photo can be dated to before the turn of the century, purely based on the absence of the avenue of lime trees which now runs from Bridge Street up to St Nicholas' church, bordering the car park today. A picture of these lime trees as saplings can be seen in A Kenilworth Collection (Odibourne Press, 1986) by Helen Scott and Richard Storey in a postcard which is dated at 1911, so that narrows the date down to around this period.
In fact, Robin Leach has helped out with dating our 'then' photo a bit more accurately. He points out that the churchyard wall is partly built but incomplete so so the image must be post 1885 but there is a hedge across the middle so it is pre-1897. Also, he observes that the photo was taken before Abbotsfield House was built in 1895, which today looks imposingly over Abbey Fields. The big tree visible at the top of the hill was famously taken down in the 1990s too, he adds.
Given the elevation of the church spire against the horizon it can be deduced that the 'then' image photographer was situated up in a high window of the newly built Abbey Hotel, built between 1885 and 1886, situated immediately behind the 'now' image's vantage point. Initially named the Bowling Green Hotel after the hotel it replaced when Priory Road was knocked through the site, it was renamed Abbey Hotel in January 1887.
Thanks to Robin Leach for additional information for this article.