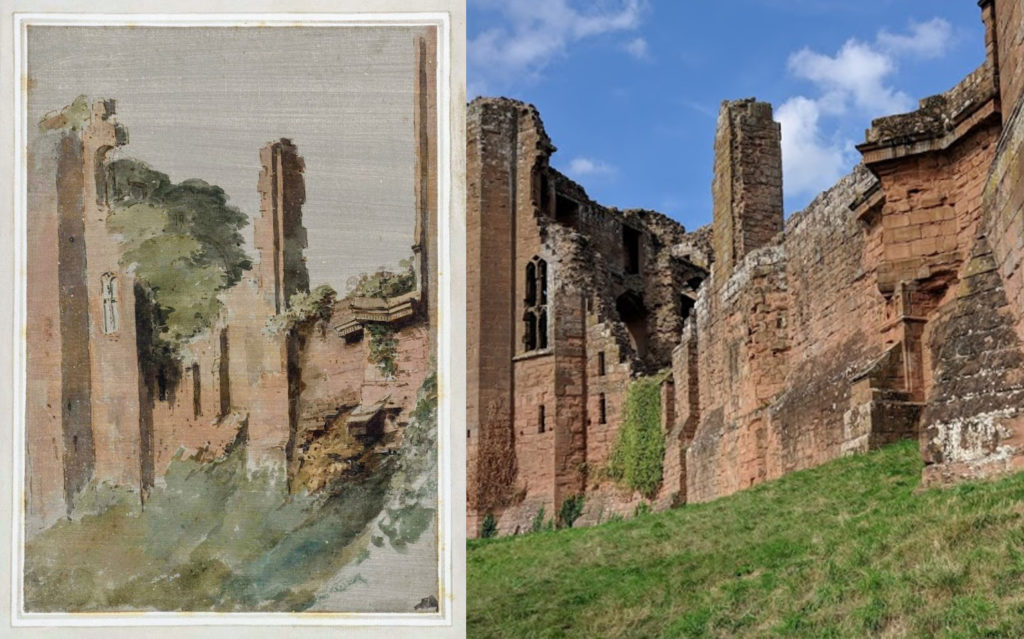 This pair of then and now images compares a watercolour depiction of part of the inner court of Kenilworth Castle, known as The Great Chamber or White Hall, to a modern day photo of the same scene.
The original painting is in the Tate collection, painted by an artist named Heneage Finch, Fourth Earl of Aylesford (1751–1812). The work is simply entitled "Part of Kenilworth Castle" and is described as a watercolour and gouache on paper. It was purchased by the Tate as part of the Oppé Collection, with assistance from the National Lottery through the Heritage Lottery Fund 1996. Adolph Paul Oppé, CB, FBA (1878–1957) was an English art historian, critic, art collector and museum official.
Aylesford was the son of Heneage Finch, 3rd Earl of Aylesford, and Lady Charlotte Finch, daughter of Charles Seymour, 6th Duke of Somerset. He was born at his paternal grandfather's residence, Syon House, near London. He was educated at Christ Church, Oxford. He was also a British politician who sat in the House of Commons from 1772 to 1777 when he succeeded to a peerage.
The image depicts a stretch of the inner court between Saintlowe Tower and Gaunt's Tower, housing the Wardrobe on the ground floor and what is described as the Great Chamber or White Hall on the first floor. According to the English Heritage plan of Kenilworth Castle, the inner curtain wall at this spot is thought to be 12th century, and the Wardrobe was subsequently built inside it, comprising 13th century additions. The Great Chamber above it was 14th century. There also appears to be 16th century flourishes added at the time Dudley built the neighbouring Leicester's Building, including the triangular window bay shown in the foreground of the painting.
The vantage point that the image was painted from proved hard to match exactly. The bank leading up to the Wardrobe and Great Chamber is steep, and would have presented the artist with a challenging place to erect an easel! The artist seems to have found a loftier viewpoint than mine, so perhaps he even climbed upon the outer curtain wall near Leicester's Building to paint the scene?
Finch achieved a good likeness, and little has changed between the 'then' and 'now' images, apart from the loss of a few of the overhanging stones from the partial arched window in Saintlowe Tower, seen at the very top left of both images, unless some artistic license was used to make it appear more precarious than it really was.