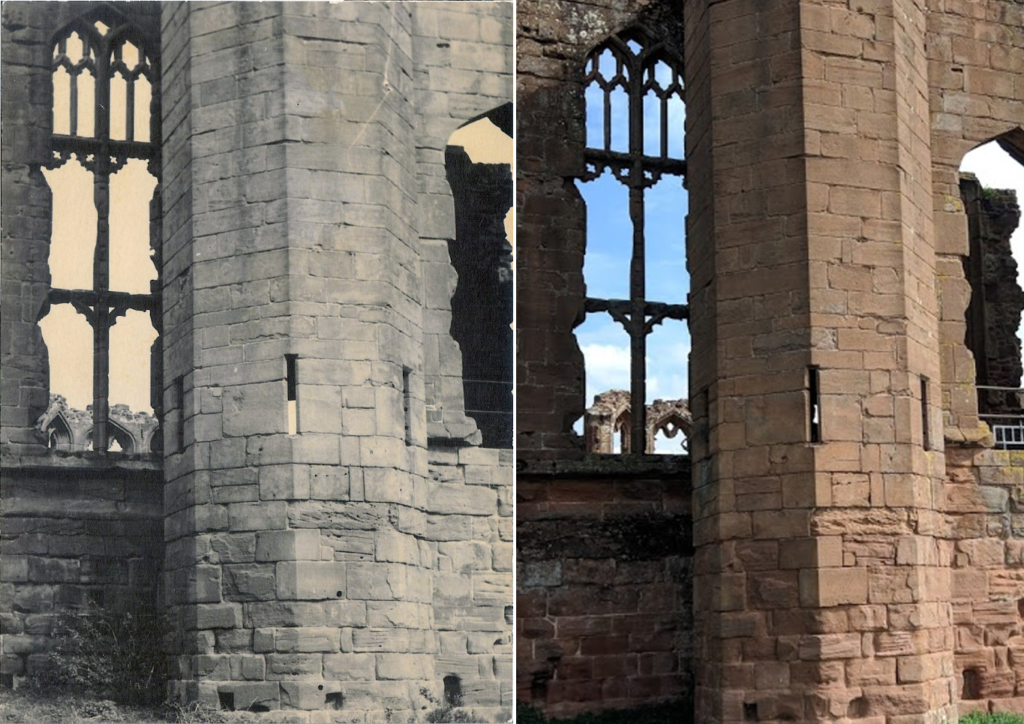 The then and now images above show the intricate tracery of a window of the castle's Great Hall and a corner turret of Saintlowe Tower.
The scene shown in the undated black and white 'then' image has not changed a great deal by the time the 'now' image was taken in the autumn of 2018, save for some minor erosion to the post holes at the foot of Saintlowe Tower's octagonal corner tower.
Saintlowe Tower is the southernmost of a symmetrical pair of towers, which book-end John of Gaunt's 14th century Great Hall, its northern-end counterpart being Strong Tower. Saintlowe Tower sits opposite the Great Hall's grand oriel window, and was designed to provide extra accommodation in which John of Gaunt could host private entertainments away from the throng of the main gathering in the Hall.
John of Gaunt, Duke of Lancaster (1340 – 1399) was the third of the five sons of King Edward III. In the 14th century, John of Gaunt began the process of developing the brutal fortified castle into the luxurious palace it would become, building the Great Hall and lavish state apartments. Due to the sumptuousness of his building works, Kenilworth Castle became a favoured residence of the Lancastrian kings in the later Middle Ages.