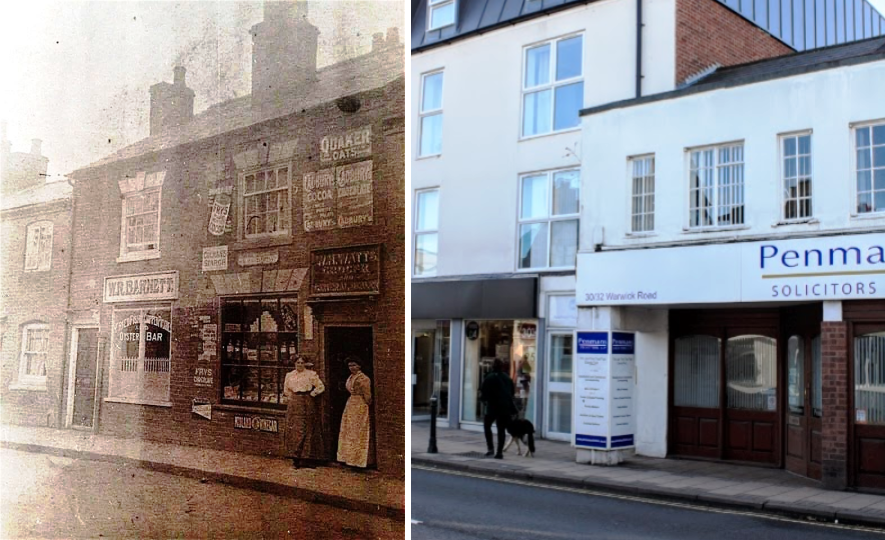 This row of Warwick Road properties has undergone so many alterations and demolitions that there aren't very many clues as to which are their modern day counterparts.
However, from similar images it is possible to deduce that the properties on the left of the image, up to and including W.R. Barnett's Fried Fish and Oyster Bar, were demolished in the 1960s. In a previous Then & Now comparison we showed these properties boarded up and awaiting demolition.
It may seem odd to the modern reader that a simple midlands chippy like Barnett's should also be trading as an oyster bar but it should be remembered that in Victorian times oysters were cheap working class food, with 120 million consumed annually, until their popularity drove them to near extinction on our shores. They became a protected species, which caused their price to rise, making them a delicacy and driving them out of reach for the common man.
To the right of centre is what was at this point known as W.H. Watts Grocer's shop. In last week's Then & Now image we saw how this business became renamed as E.H. Watts and its formerly residential neighbour to the right were substantially altered to become franchise of the self-service supermarket chain VG Stores. Presumably this was represented an attempt for the business to move with the times, as it was passed down from one generation to the next.
We are indebted to readers of the KHAS Facebook page for providing additional details on these business. Sue Wilson's mother was born in Kenilworth in 1932. Sue tells us "She recalls the VG shop as Eric Watts grocers shop. Next to that was Barnetts fish and chip shop and on the corner was Hickmans greengrocers."
A huge thank you to Su Hadley and Tony Watts for providing, via Facebook, this and other images of the modifications to E.H. Watts shop.