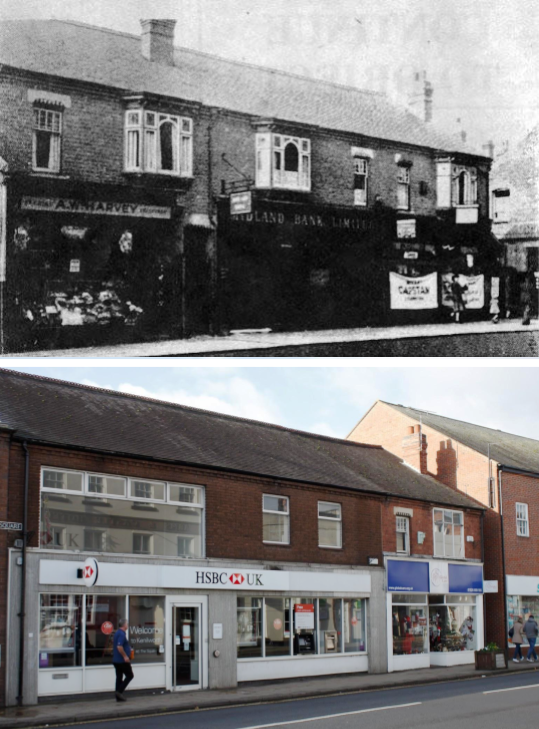 The pictures above show a much modified Edwardian terrace, now numbered 44 – 46 The Square, Kenilworth. The 'Then' picture was taken from a Kenilworth Weekly News article published in May 1979 in the KHAS archives.
The article explains that the original photo was snapped in 1950. It shows that numbers 44 – 46 were clearly built as a coherent terrace of three Edwardian properties, each with a different business occupying the ground floor shop premises. It's possible to make out that number 46 was occupied by what looks to be a grocers called A.W. Harvey, number 45 by Midland Bank and number 44 by a tobacconists advertising Capstan Cigarettes.
Midland Bank, of course, was taken over by HSBC Holdings plc in 1992, who phased out the Midland Bank name in 1999 in favour of HSBC Bank. In the 'now' photo we can see how the premises was extended to occupy both numbers 45 and 46 with the loss of much of the architectural detailing on the first floor frontage and the chimney above.
As we covered in a previous Then & Now comparison, the premises next door (out of shot left), now occupied by Halifax Building Society, was demolished in 1983 and found to have been of a historic timber framed construction by some eagle eyed KHAS members just before it was destroyed. A similar view can be found in this Then & Now comparison showing the timber framed buildings that occupied these plots before the Edwardian terrace was built.