Why register on the KHAS Website?
One aspect of the KHAS website that we've never got working satisfactorily, up until now, is the KHAS Forum. We're pleased to say that this is now up and running, so we'd like to take you through what this feature is and how to use it.
The Society would very much like to make the KHAS website interactive. We want to hear your questions, theories, anecdotes and pet research projects. If you have  burning question about Kenilworth's history but do not know which expert is best placed to answer your question, then we'd like to provide somewhere for you to put your question to the expert in that particular field. If you have a theory on an aspect of our long and mysterious past then we'd like to hear about it, in case it inspires others to look into your ideas. If you have personal memories of the town's people, places and industries we'd love to record your thoughts. If you have been researching some niche aspect of our history we'd love to hear about what you've been doing.
Thankfully, we now have the facility for you to register on the KHAS website and do exactly that, either by leaving comments against articles we publish, or by posting on the KHAS Forum. It's free and it's simple, so here's the process for doing so:
---
Step 1) Register for the KHAS Website
The process of registering an account on the KHAS website is very simple. At the top of your screen you will see a menu bar, with a menu item called "Login to KHAS". Underneath that, click the sub-menu item called "Register":


This will bring up a form for you to fill in where you can create yourself a username and password for the web site. Make sure you choose one you will remember, of course, like so: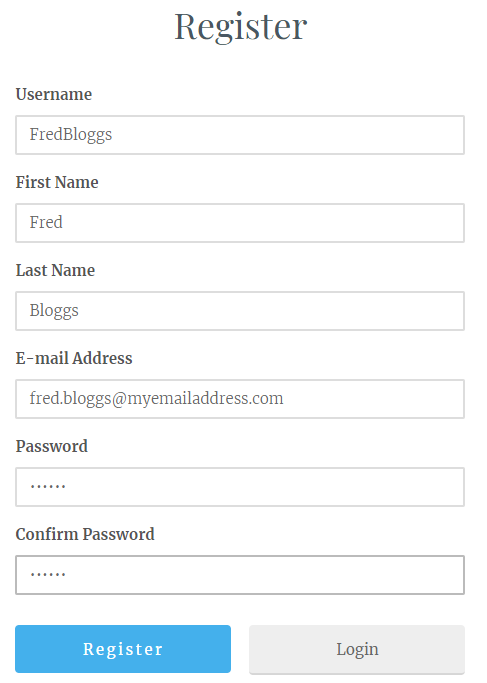 Once you are registered, you'll be logged into the KHAS website and the menu will change to allow you to view your account details, change your password and log out of your account:
---
Step 2) Logging in on future visits to the website
Next time you return to the website, you can log in by simply returning to the "Login to KHAS" menu item, selecting "Login" and entering the username and password you created in step 1:


---
Step 3) Posting queries and theories on the KHAS Forum
Now you are logged into the KHAS website you can post on the KHAS Forum. The forum is a simple message board which allows you to post a new query of theory which can be read by other visitors to the site. If your forum post generates interest from other readers, hopefully you'll get replies to your post and maybe generate some debate.
Here's how to post something to the KHAS forum. First, click on the menu item called "KHAS Forum" which will take you to the following page: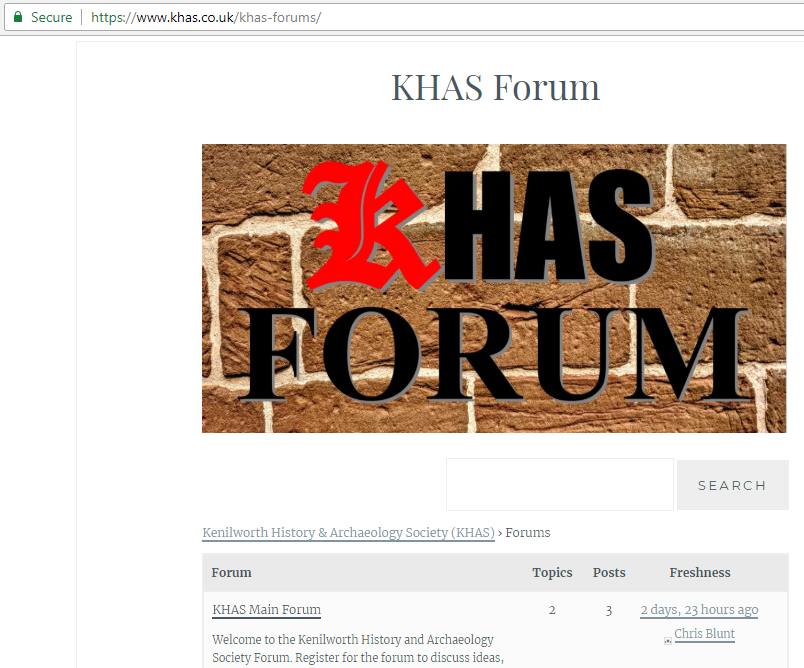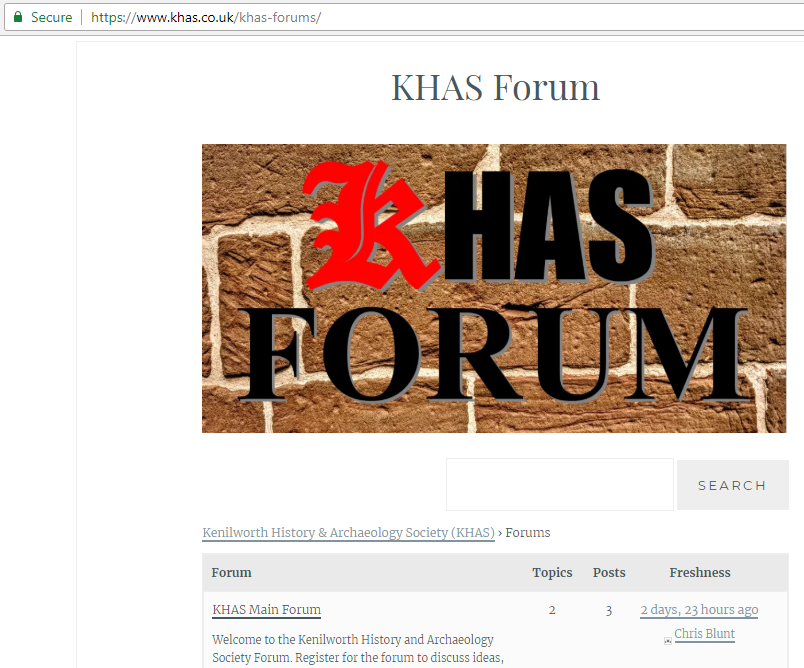 We only have one forum at the moment, so click on the link called "KHAS Main Forum" and you will be taken to a page that looks like the screenshot below, showing a list of all posts so far and a box for you to create a new forum post: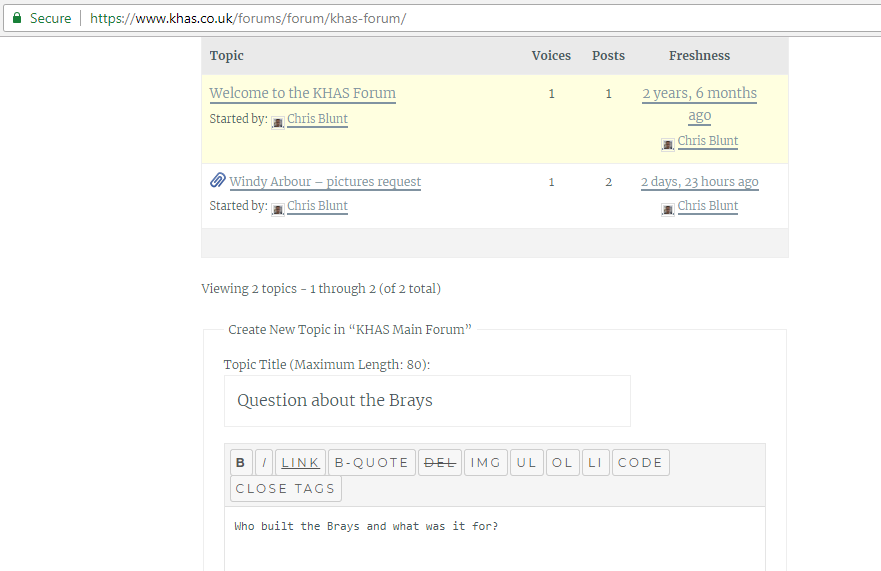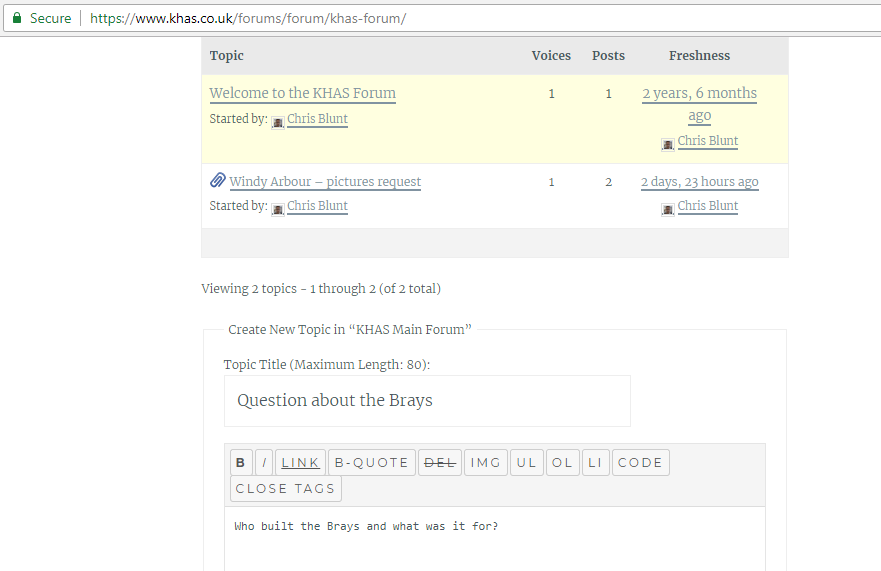 If you wish to create a new Forum post, the process for doing so is pretty simple. In the box called "Topic Title" you can enter a subject for your post, in this case I've called my post "Question about the Brays". In the box below that, you can enter the query or theory you wish to post, for example, "Who built the Brays and what was it for?". Underneath that is an attachments box if you want to attach an accompanying picture, for example.
Now click the "Submit" button and you have submitted your KHAS forum post. Hopefully, others will respond to your post.
---
Step 4) Comment on KHAS Web Page Articles
Similarly, underneath any article posted on the KHAS webpage you will see a box called "Leave a Reply" which allows you to comment directly against the article. Let us know what you think!
---
And that's it.
We really do want you to get involved. This is your history. The more we know about our history, the more we realise how much there is still yet to be known. That's why we want your interaction. We hope you enjoy it!
Any problems, feel free to email the [wpml_mailto email="admin@khas.co.uk"]KHAS Webmaster[/wpml_mailto] for some help.
Chris Blunt
(KHAS Webmaster)