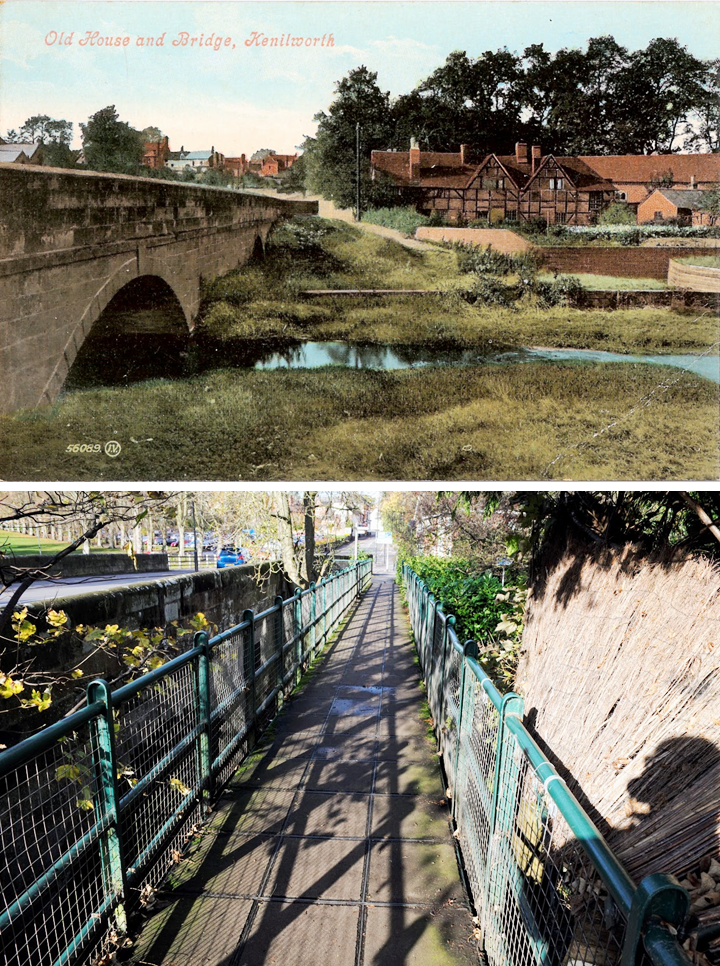 This colourised postcard shows a collection of wonderful old timber-framed properties on Bridge Street, which were the subject of our very first Then & Now comparison back in December 2015. It was a very pertinent bit of subject matter for the Society, as it is the destruction of these buildings in 1961 that caused a like minded group of individuals to join together to form the Kenilworth Society, a later offshoot of which became the Kenilworth History and Archaeology Society.
The timber framed house and the adjoining J.C. Clarke's Wheelwright's workshop were demolished in May 1961, despite having been listed as having architectural or historic interest since July 1949.
The 'then' image shows the stone Townpool Bridge before the addition of the metal pedestrian walkway, bolted onto the eastern parapet.  An exact 'now' view is impossible as the 'then' view would have been taken from approximately where the brick footbridge support pillar now stands. Robin Leach kindly added that the footbridge was originally made of wood and opened in 1934.
According to Harry Sunley's ever dependable A Kenilworth Chronology (Odibourne Press, 1985) the foot-way was added underneath Townpool Bridge in 1935 to avoid the need for pupils on their way to school having to cross Bridge Street.
Also of interest in the 'then' image, at this time Finham Brook's water flowed through both arches of the bridge to a weir, the brick wall of which is visible in the centre of the image. From there, the flow split in two, with the southern channel becoming the mill race that once fed the mill at Mill End and the northern channel flowing over the weir into an overflow channel that bypassed the mill and rejoined the mill race at the edge of the common. Today the northern arch is redundant and the stream follows the former overflow channel, while the mill race has long since been filled in.
Readers who are struggling to picture where the mill race ran exactly would no doubt enjoy the wonderful Oatmill Leat 3D reconstruction video on Graham Gould's excellent website.
Many thanks to KHAS member Mike Formstone for providing the 'then' image.