KENILWORTH HISTORY & ARCHÆOLOGY SOCIETY – 9th November 2015
At the Extraordinary General Meeting held last month, the membership was asked whether it was prepared to extend the licensing of the Society by Warwick District Council to use the 'Barn' to include the Gatehouse. Without this licence, the operation of the Gatehouse as an extension of the 'Barn' would have been very difficult. The pros and cons were presented and the matter put to the vote. The Society minutes now have this recorded, and the last paragraph says:
"The KHAS members present were asked to indicate their approval of the proposal by a show of hands in favour of it. A further request for a show of hands against the proposal produced no response, and the proposal was therefore declared accepted unanimously."
» Last month Elaine Warner, Chairman of Knowle Local History Society, came in place of Diane Jones to give us a brief history of the township. It became clear as she spoke that, except for the dominance of Castle and Abbey, Kenilworth's development was very like that of Knowle. Her talk brought back memories for many, and no doubt members will visit Knowle now & see it in a new light.
» Tonight our speaker is KHAS member and Chair of the Civic Society, Gordon Cain. He will tell us about the Cathedral Church of St. Philip in Birmingham. Gordon's accounts of buildings are always greatly appreciated, so we are looking forward to what he has to say.
» Next month, December 14th: Members who would like to bring contributions for our festive buffet please let the Chairman, Margaret Kane or Sue Tyler know whether they will be sweet or savory – the contributions, that is. Entertainment will be provided by Paul & Alex Thompson who have visited us several times in previously. They will be telling us (if that's the phrase) something of the goings on in Christmas Past.
» Contributions to KH2016 would be gratefully received at any time – please contact the Editor. Proposed articles include "Mythbusters" and "For the Record". The former is, hopefully, self-explanatory; the latter is intended for small matters which have come to the attention of Members of the Society over the years but are not elsewhere recorded. An instance is the information from the former property owner that an Elizabethan coin and a Henry III coin were found in a garden in Clinton Avenue. Other content welcomed – soon!
» A CD containing every issue of from 1981 to 2015 (inc) is now available. It has on it also a file of all the 'Tables of Content', six spreadsheets of those contents sorted by date, author, title, and three subject categories, and one continuous file of all the KHs so that it can subjected to a wordsearch from beginning to end – a really valuable resource for any researcher. The Society is charging £5 a CD, which, if you consider that people in the Town have bought over 60 copies of KH2015 alone for £5 from the Bookshop this year, is incredibly good value for money.
» Kenilworth Family History Society " 'Alice and the King'; Story of a WW1 nurse by Dahlia Harrison 11th November SCC 7.30pm
» The Warwickshire Local History Society 17th November 2015 Dr Nat Alcock, '"On the Road": Travelling in Warwickshire and beyond before the Railway Age'. 8.00pm, preceded by coffee at 7.30pm, in The Friends' Meeting House, 39 High Street, Warwick, CV34 4AX
» Kineton Local History Soc. Friday 20 November – Kineton's soldiers from Bridge Street, during and after the First World War – David Fisher. All meetings at 7.30pm at Kineton Village Hall
» Warwickshire Geology: 18 November: Dr Noel Worley (formerly chief geologist, British Gypsum): The Genesis and Evolution of Sulphate Evaporites. All meetings take place at S. Francis' Church Hall, Warwick Road (Kenilworth main street), Kenilworth CV8 1HL, with coffee at 7pm before a 7.30pm start.
» CADAS: 10th November: "The New Lunt Roman Fort" Lecturer: Paul Thompson All meetings are held at the Friends' Meeting House, Hill Street, Coventry, at 19:30.
» The third edition of A Portrait of Kenilworth in Street Names, originally produced by former Secretary, Geoff Hilton, is out, edited now by Robin Leach.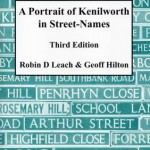 » The second edition of The Story of the Abbey, by Sunley & Stevens, first published 20 years ago but now enhanced with discoveries made in the 20 year gap, largely by members of this Society, is now available. Published price is £10, but copies are available to members tonight at £8.
» Miscellaneous guide books to places all over the country and of various dates are available for sale at the back of the room – 5p each, to the Society's funds.
Contacts:
Chairman – 01676 532654;
Secretary – 01926 858670
Treasurer – 01926 852655;
Vice Chairman & Editor – 01926 858090