The Christmas Meeting: Our December meeting was, as always, greatly enjoyed and appreciated by all who could be there. On this occasion we were joined from Kenilworth Castle by "Queen Elizabeth I and her two Ladies in Waiting" who told us all about Elizabethan costume and the importance of the Sumptuary Laws. These stipulated who, according to status, was allowed to wear what colour and what fabric. The two Ladies then dressed their Queen – a complex process involving many different layers! This most interesting and entertaining presentation by our friends from the Castle was of course followed by a veritable Christmas feast – thank you to everyone who contributed.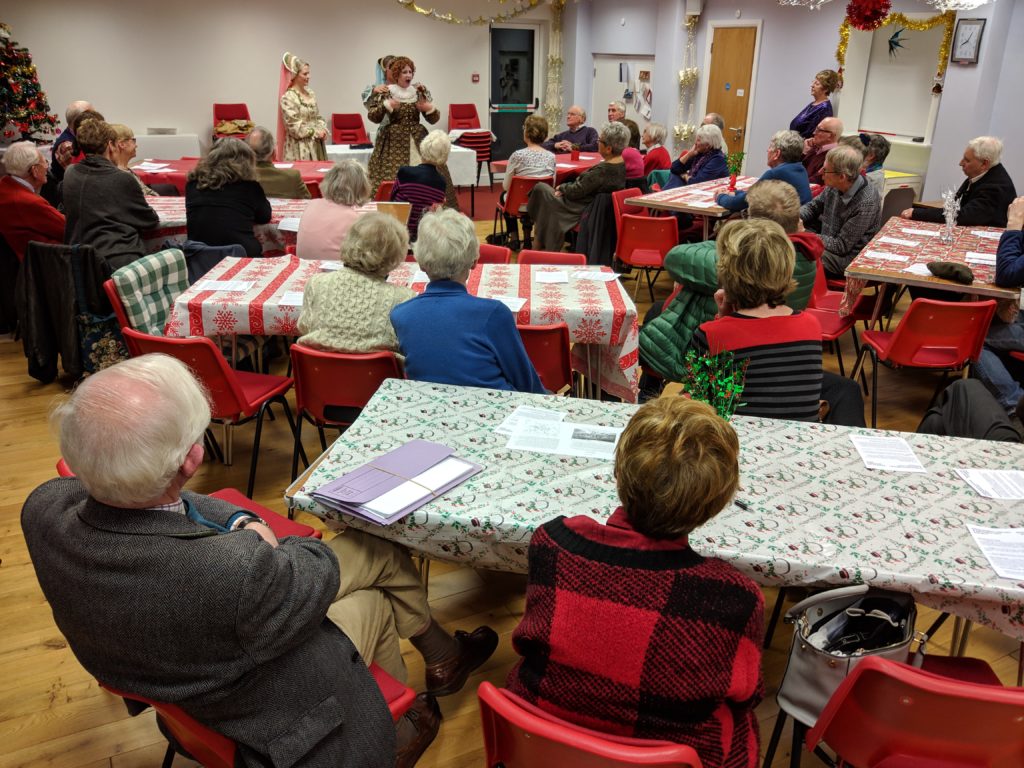 Tonight's Talk: Don't forget that tonight's talk will be the one which was
originally scheduled for last November – Graham Sutherland speaking on 'The Darker Side of Warwick' !
The AGM looms …. As you all know, Geoff Whiteman has been our excellent KHAS Secretary for a number of years but unfortunately, due to family commitments, he will reluctantly be standing down from this position as soon as a replacement Secretary can be appointed. If anyone would be willing to join the Committee in this capacity please contact either Geoff or Jan to discuss it. Geoff will be very happy to explain what is involved.
The other existing Officers and Committee members are willing to offer themselves for re-election but, should you wish to nominate anyone else, forms are available this evening and, when completed, should be returned to the Secretary no later than Monday 27th January 2020. The AGM will be followed by a talk,by KHAS member David Morse, entitled 'St. Paul's Watch – Defence and Defiance during WW2'. Annual subscriptions will also fall due at this meeting – £10 single or £15 joint membership. Please see our Treasurer to renew/join and receive your complimentary copy of Kenilworth History 2020.
YOU COULD BE INTERESTED IN ……
Kenilworth Family History Society: Wednesday 12 February. 7.45pm. The Kenilworth Centre CV8 1QJ. Dr Mike Haynes: Getting Rid of the Stink (the public health revolution)
Warwickshire Geological Conservation Group: Wednesday 15th Jan. 7pm for 7.30pm. St Francis Church Hall, Warwick Rd. Dr Tom Barrett: Meteorites. Details: Ian Fenwick (257250)
Warwickshire Local History Society: Saturday 18th January, 1.30 for 2pm. Ellie Reid, independent researcher: Warwick Pageant & the 20th Century Pageant Movement', N.B. this, the first day-time lecture, will take place at St Michael's Church Centre, Church Lane, Budbrooke, Warwick. CV35 8QL. For more details e-mail rowanfisher367@gmail.com or call 07507 293669
CADAS: Tuesday 14th Jan. 7.30pm. Friends Meeting House, Hill St., Coventry. Dr Daniel Reynolds (Birmingham, Byzantine History): At the Crossroads of Empires. He reports on excavations of a 9th century Byzantine church near Salerno. Also 11 February, Dr Rob Early: the Archaeology of HS2
Lapworth Local History Group: Tues. 28th Jan. 7.45pm. Lapworth Village Hall. Paul Walters: The Story of Coventry
Leamington History Group: Monday, 27th Jan. 7.30pm. Dormer Conference Centre, Dormer Place. AGM followed by Peter Coulls: Henry Fedeski, award-winning Leamington architect
KHAS on Show: The third annual Kenilworth Community In Action
event will take place on Saturday 1st February at the Methodist Church,
Priory Road. Between 1.30pm and 4pm there will be displays
showcasing the activities of many Kenilworth groups, including
KHAS. Additionally, during the course of the afternoon, there will be a
couple of talks and an interactive drama workshop. Entrance is free of
charge – do come along and support KHAS.
Contacts: Chairman – 01676-532654; Secretary – 01926-858670;
Treasurer – 01926-852655; Newsletter Editor – 01926-257250
Website www.khas.co.uk