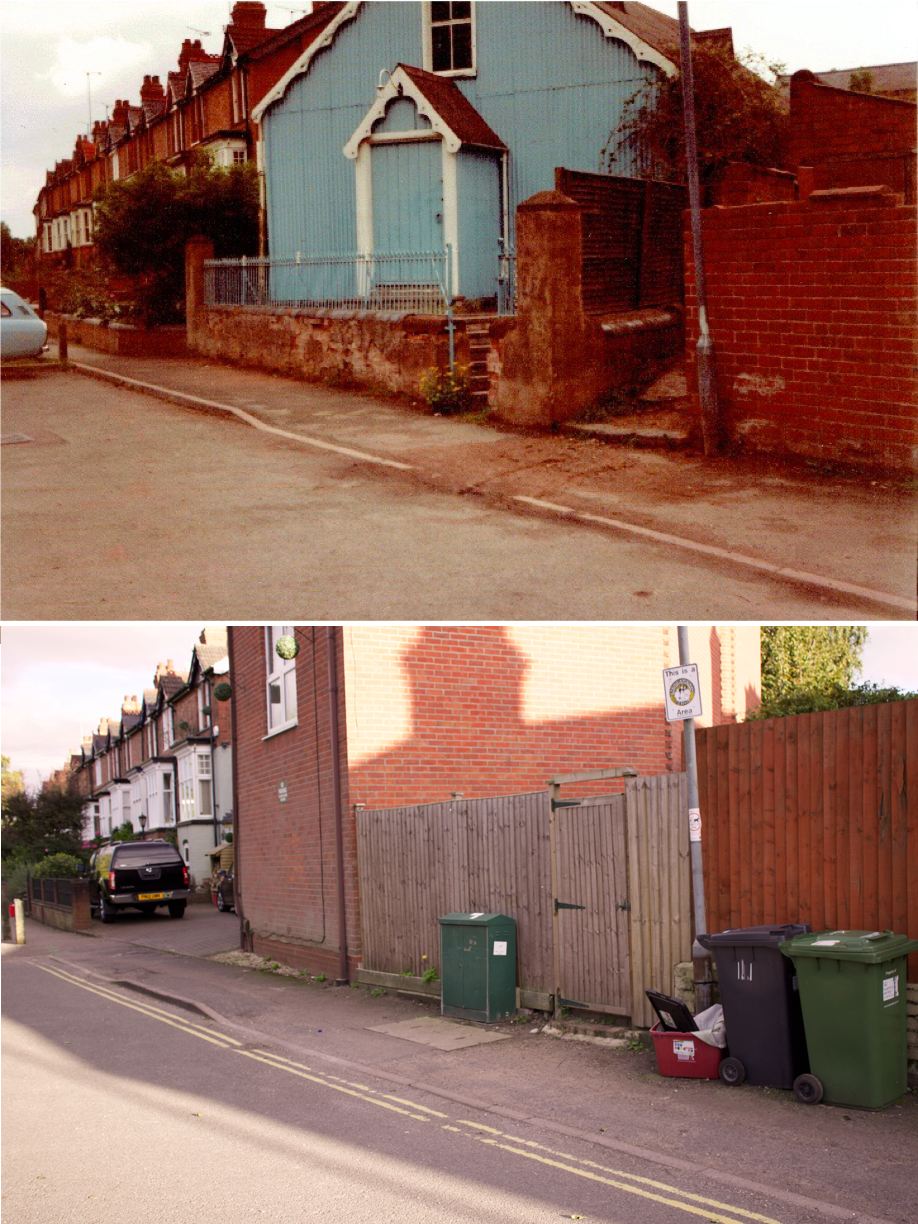 This Then & Now pairing shows the site of the Brethren Meeting Rooms near the junction of The Close and Park Road. It was one of a spate of 'tin tabernacle' constructions built during the mid 19th century as a result of the development of corrugated galvanised iron for the use of constructing prefabricated buildings. A similar example locally of an Iron Room is St Barnabas Church, built in 1885, which still sits at the junction of Park Hill and Albion Street. Many such Iron Rooms are now listed.
Richard Storey and Helen Scott's book A Kenilworth Collection (Odibourne Press, 1986) contains another pair of images of the Brethren Meeting Rooms and records that there is a mention in the 1883 directory of "The Iron Room, near the Washbrook, occupied by the Brethren providing accommodation for 150 people".
The term "Brethren" is fairly ambiguous, as it was a name adopted by a wide range of mainly Christian religious groups throughout history. A loose, overlapping group of like-minded independent church assemblies known as The Plymouth Brethren, which can trace its roots to 1820s Dublin, spawned a number of offshoot organisations such as the Open and Exclusive Brethren, the Exclusive Brethren and the Open (and Closed) Brethren. An offshoot from this network of church assemblies may been the congregation responsible for building this assembly hall in Kenilworth in the mid 19th century.
An extract from A History of the County of Warwick: Volume 6, Knightlow Hundred (Victoria County History, London, 1951) on the British History Online website records that as of that date the building was occupied by what it refers to as The Free Brethren.
The ever reliable A Kenilworth Chronology by Harry Sunley (Odiborne Press, 1989) records that The Brethren Meeting Rooms were demolished for flats in 1982.
We are very grateful to Mrs Joan Heatley for providing the Then photo.