During the course of 2016 there has been a lot of interest in Simon de Montfort, the 2nd Barons' War and the Great Siege of Kenilworth. Numerous talks have been delivered on these subjects and two questions have been repeatedly asked: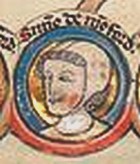 Firstly: "Why did the young Simon de Montfort not return from France with an army to assist his fellow rebels still inside Kenilworth Castle?"
Secondly: "What became of the remainder of Earl Simon de Montfort's family?"
I will endeavour to answer these questions as best I may.
Young Simon, and his brother Guy (the most warlike and volatile of the two), did indeed try to raise an army but King Louis IX took steps to ensure that they were not successful. England may have been France's hereditary enemy but King Louis did not wish to create a precedent by helping rebels against another anointed King.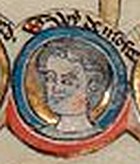 Simon and Guy eventually entered the service of the Count of Anjou. Guy soon distinguished himself in battle, was created Count of Nola and married into one of the wealthiest and most influential families in Italy – the Aldobrandeschi family.
In March of 1271, whilst in Tuscany, they heard that their cousin, Henry of Almain, had just arrived in the nearby town of Viterbo where they went intent upon revenge for the killing of their father and elder brother at Evesham. They found their cousin at prayer in the church of San Silvestro where they murdered him as he clung to the altar begging for mercy. Both Simon and Guy were excommunicated and Guy was stripped of his titles but, with the assistance of his very influential family, he escaped justice and re-joined the Count of Anjou. Several years later, whilst on campaign in Sicily Guy was captured and eventually died in a Sicilian prison. Simon became a wandering fugitive, weighed down by guilt for the sacrilege committed at Viterbo, and soon died in Siena. Interestingly, 40 years after Guy de Montfort's death, his infamous reputation had not diminished. Danté, when creating his 'Divine Comedy', placed Guy de Montfort in the 7th Circle of Hell in his 'Inferno' where he "slid into a river of boiling blood" – clearly what Danté considered to be his just deserts!

Of the remainder of Earl Simon's family his Countess, Eleanor, went into exile in France after her husband's death where she lived out her life at Montargis in a house rented from the nuns. She was eventually buried in Montargis Abbey.
Their son Amaury who was the most highly educated and charismatic of the de Montfort siblings had a very successful career in the Church; studied medicine in Padua; became a Papal Chaplain and was instrumental in persuading Pope Clement to intercede with King Henry III to have Earl Simon's mangled remains exhumed and reinterred in consecrated ground back at Evesham Abbey.
Richard, their youngest son, died in France aged around 20.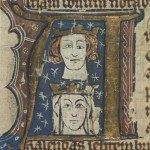 So, that just leaves their only surviving daughter Eleanor who, prior to the battle of Evesham, had been betrothed to her father's ally Llewelyn ap Gruffydd, Prince of Wales. Following Earl Simon's defeat and death Llewelyn withdrew from the betrothal and Eleanor accompanied her mother into exile in France. Several years later Llewelyn renewed his suit and Eleanor, accompanied by her brother Amaury, set sail for Wales. Unfortunately their ship was captured by pirates and they were delivered into the hands of their cousin Edward, now King Edward I of England. Edward has sworn revenge on all of the de Montfort brothers for the murder of their cousin Henry of Almain. Amaury is known to have been in Padua at the time of the murder but, nonetheless, Edward had him incarcerated in the notorious stronghold of Corfe castle where he languished for several years before he was eventually released and returned to France.
Meanwhile Eleanor had been forced to remain at court ostensibly as Edward's honoured guest though in reality as a hostage for Prince Llewelyn's good behaviour. He did eventually let her go and she did marry her Welsh Prince but sadly died giving birth to their only child, a daughter, the Princess Gwenllian. Llewelyn was later killed in an ambush and King Edward had the child Gwenllian delivered to the nuns at the isolated Sempringham Priory in Lincolnshire where she grew up and joined the very strict Gilbertine Order, eventually dying aged 58 – the last of the 'English' de Montfort line.
Jan Cooper
December 2016