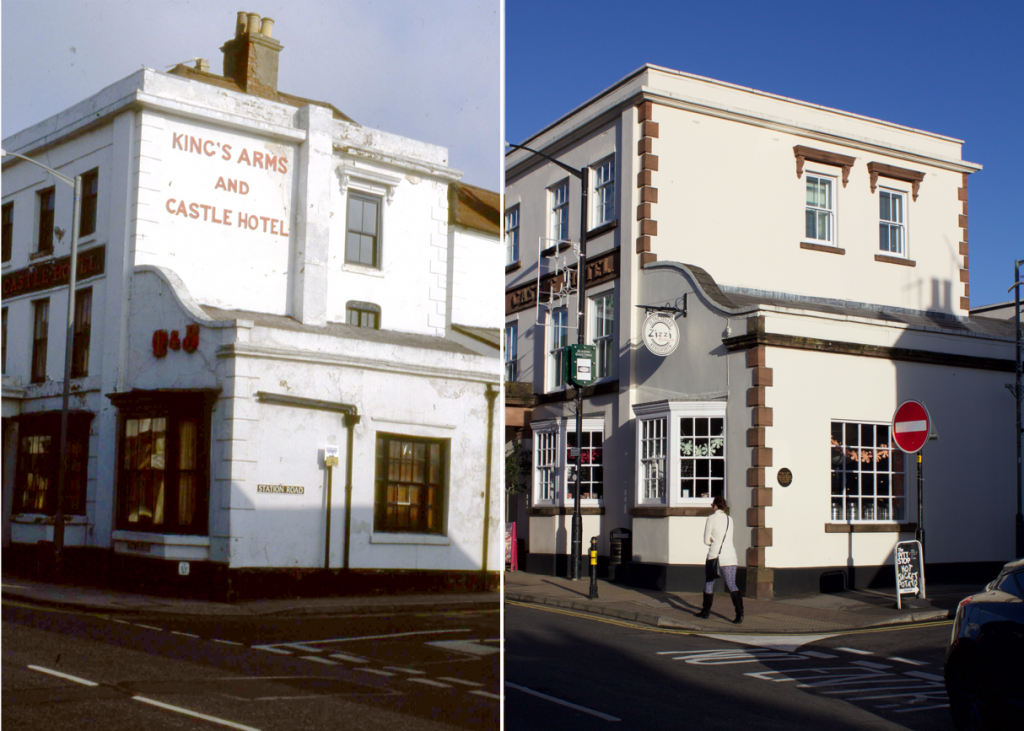 The King's Arms & Castle, 1960s. According to Rob Steward's "The Inns and Roads of Kenilworth" (Odibourne Press, 2000) the "King's Arms Inn" was the venue of the Abbey Courts Leet in 1563 and remained so until the nineteenth century.
By the nineteenth century, Coaches used to call in at the King's Arms 'from a quarter past seven until ten at night' and later 'omnibuses and cars' from the King's Arms & Castle would meet every train from the station.
Sir Walter Scott stayed at the inn in 1815 and commenced writing his famous novel Kenilworth published in 1821. It is also though that Charles Dickens stayed at the inn during preparations for writing Dombey and Son which was published in 1848 and featuring the line "A stroll among the haunted ruins of Kenilworth".
During renovations in 1985, it was found that the facade of the building was erected around an earlier timber framed structure, which was now perilously unsafe. It remained in scaffolding whilst developers deliberated about how to resolve the situation.
Ultimately, it was decided to completely demolish the building in 1986 and rebuild the facade from scratch. Close examination of the two image shows discrepancies in the roof line, wings at the rear have been omitted from the new design and windows are not aligned with their predecessors. The interiors have been completely altered, with features like the bed which Sir Walter Scott is said to have stayed in having been long since taken elsewhere.
The rebuilt Kings Arms was repurposed as a nightclub named Drummonds, with residential flats to the rear. In 2005 it closed and became neglected, before eventually reopening in 2007 as separate restaurant units named now named Zizi, and Ego.
Further reading online: