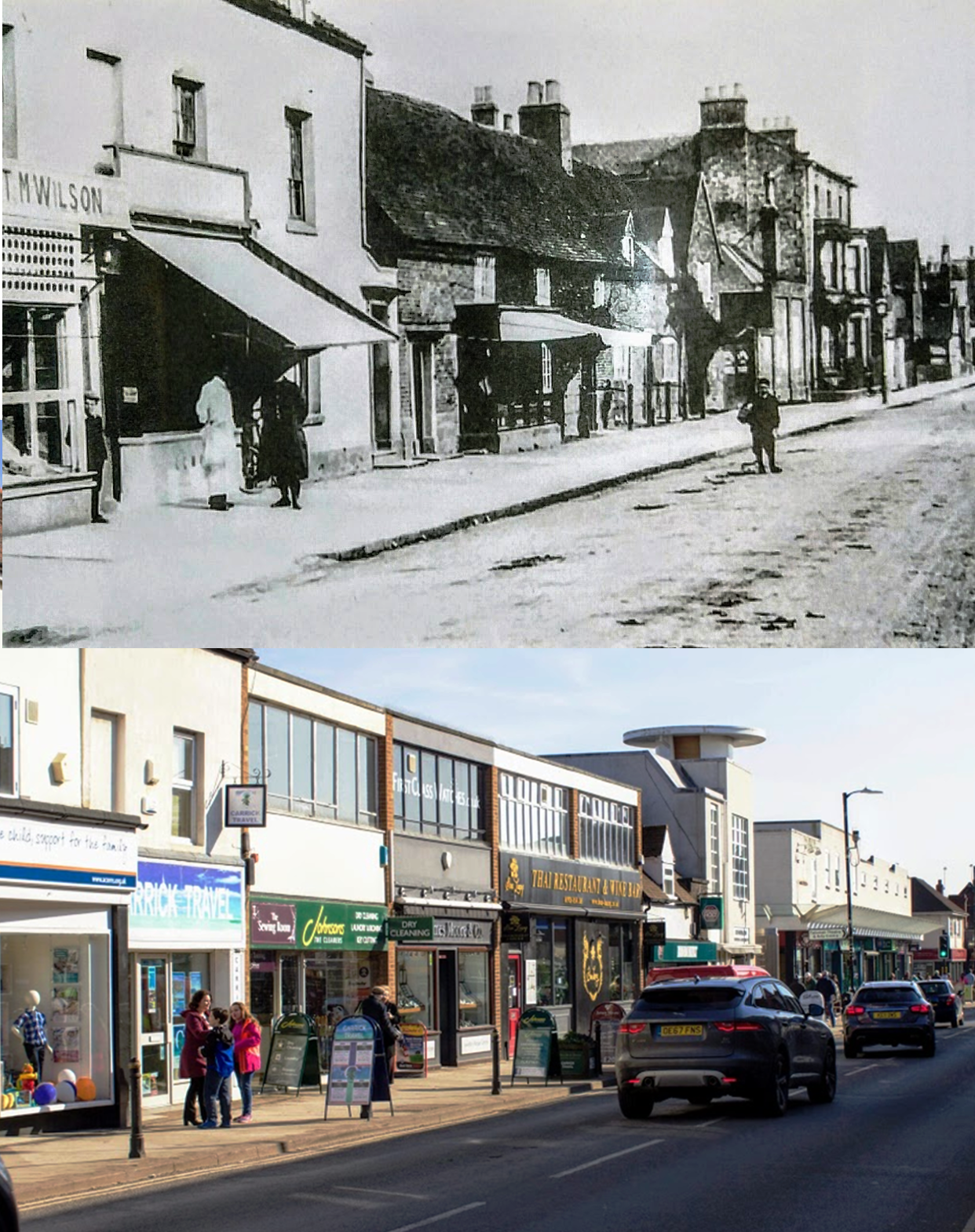 This 'then' view shows the east side of Warwick Road between Station Road and Talisman Square, once the site of The Tannery.
Most interestingly in this view, is a glimpse of a row of old cottages, which survived until the demolition frenzy of the 1960s. The History of Warwick Road Tannery, Kenilworth (Gould & James, 2017) by Graham Gould and Peter James provides us with some information into the relevance of these cottages. The Tannery's founder Robert Draper lived in this row, founding his business by digging the first tanning pits in his own back yard, having bought the property in 1818. The tannery site went through multiple expansions until it became a huge spawling industrial complex, the main site gates for which can be seen in the 'then' image a few yards further down behind the little boy in the street.
Two thirds of this row of cottages were demolished to make way for new shops to accompany the Talisman Square precinct, shortly before the tannery site was redeveloped in 1965. How, or why, the third cottage section survived is a mystery, given that everything around it, including three-storey tannery buildings behind it, was demolished. Despite its antiquity, it is not a listed building, having been used for various purposes including the weighbridge office and most recently as an estate agents. The white building to the right of what is now Carrick Travel, with a single storey side entrance door to the right of it, was also demolished along with the cottages.
Robin Leach, whose latest book Kenilworth People and Places, Volume 3 (Rookfield Publications, 2018) covers the Tannery in great detail, also contains a high quality print of this scene, which he dates as somewhere around 1901 – 1907. Robin believes that the reason for the cottages' demolition was simply to join the Talisman Square development to other shops on Warwick Road to make a contiguous retail development. The reason being that traders along Warwick Road were concerned that new new Talisman Square development would leave them isolated.
Also visible in the 'then' image is the bay windowed, three story house known as The Limes (right of centre), which later became Boots the Chemist. In the distance, the Warwick Road almshouses can be seen. Both of these were also sadly demolished for Talisman Square in 1965, presumably for similar reasons to the cottages.