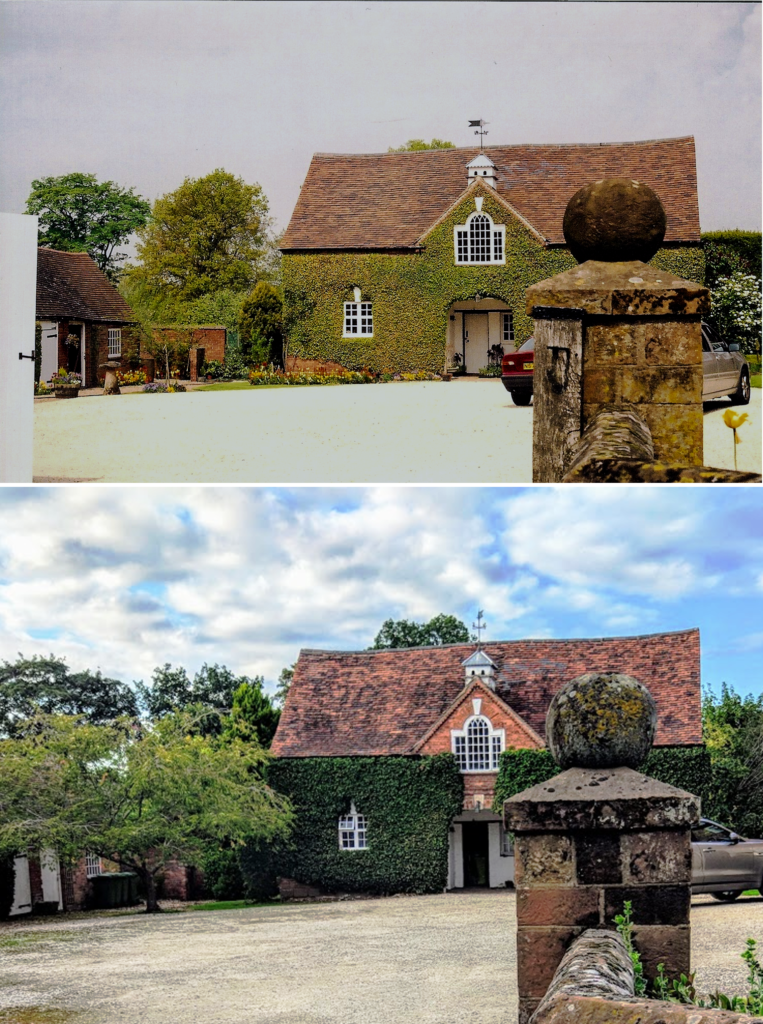 This image of the Stone House's courtyard, was provided to KHAS from the collection of the late Reg Palmer. This image pairing shows the courtyard belonging to the grand Stone House on the High Street, to the west of the main house itself.
The house itself has large grounds to the rear, including a tennis court and swimming pool, and as this property listing from 2014 tells us, "The Stone House in Kenilworth, Warwickshire, can truly be described as ship shape. It was originally created for an admiral and has an unusual boat-like design". The listing goes on to say that the buildings surrounding courtyard contained "a detached coach house which currently comprises a stable, tack room, store room and two loft rooms above."
TimeTrail Warwickshire tells us that the Stone House's site was once home to one of the many horn comb factories along the High Street. These factories were once so numerous that the area was colloquially known as "Little Brummingham". The TimeTrail entry for this particular corn comb manufactory contains a source attributed to our own John Drew in 1965, who says that "Mr Heynes in the Coventry Standard for 24:08:1894 mentions a large factory situated by the Stone House. The Stone House still stands (1965) in the High Street."
There seems to have been some confusion in subsequent historic records for the site of this horn comb factory, an error which still persists on the Our Warwickshire website, which incorrectly lists the location of the Stone House as the stone-built former Midland Bank towards the eastern end of the High Street. The TimeTrail Warwickshire website attributes this misinterpretation to a D.J. Thompson in 1983, and a subsequent correction to a verbal communication received from a Gill Stewart in 2014.
Other than the aforementioned Dudley Taylor, the only other snippet I can find in relation to the occupants of the Stone House is the following, from an article by Joyce Powell in Kenilworth History 2001 – 2002. Joyce recorded that "The next tenant of the new vicarage was the ebullient Dr. Samuel Butler, Kenilworth's only native vicar. This was his birthplace, where his parents still lived and his uncle ruled in Stone House". Samuel Butler left Kenilworth in 1837 to become Bishop of Lichfield.