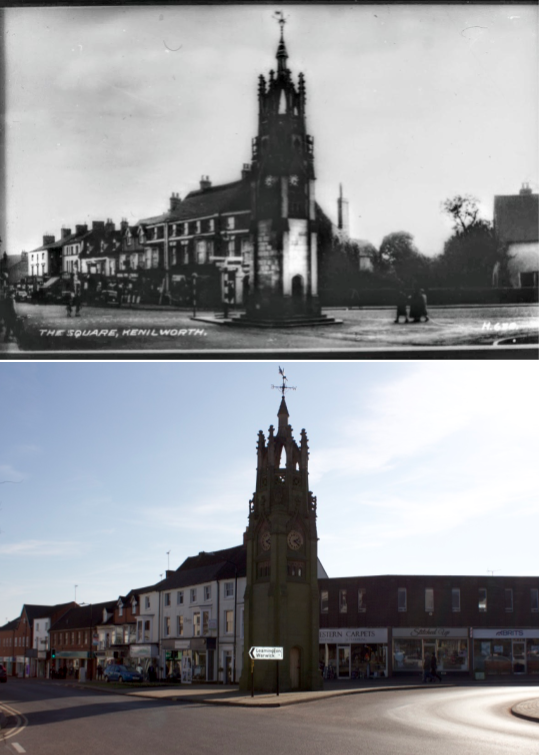 This then and now comparison shows a pre-war view of the clock tower at Abbey End. It can be identified as pre-war simply because it shows part of Lord Leycester's Lodge (extreme right) which was destroyed by the Luftwaffe parachute mine of November 1940. We can also see the steps beneath the clock tower, later buried by the 1960s roundabout works.
In the distance (centre left) are several handsome old buildings which survived the blitz only to give way to post-war commercial developments. The site now occupied by Poundland is an example of how character gave way for functionality. Next door (left) is a rare survivor in this rank, the three storey white building once home to The King's Head pub. Beyond that we can make out the buildings which once stood on the site now occupied by Coventry Building Society and Savers chemists.
The clock tower itself was built as late as 1906 but it stood on the site of a much earlier market cross. Rob Steward wrote in Kenilworth History 2001 / 2002 that "It was not until 1268 that the first market charter was established by Henry III. By this time Castle End was forming and it is possible that the Priory authorities were thinking that the vendors ' ….should be true and just in their dealings' and with permission from the Castle erected a preaching cross."
Rob went on to describe the likely appearance of the old market cross: "The cross seems to have had an octagonal base of four or five steps surmounted by a socket in which a shaft was supported. The head may have been a simple cross or, judging by the wealth of the Priory, it could have been quite elaborate." He concludes by describing how, following the dissolution of the Abbey, the cross would have fallen into disrepair, possibly being decapitated by puritan soldiers in the English Civil War (1642–1651). What remained, he says, lasted for over a century: "James Fish's map shows what was left in 1692; a four step base and part of the shaft. There must have still been some remains in 1762 as there is a reference in that year to a Fair on 10th October at the Cross, Duchy End." Rare images from before the clock tower was built show how well it filled the void left by our missing market cross.