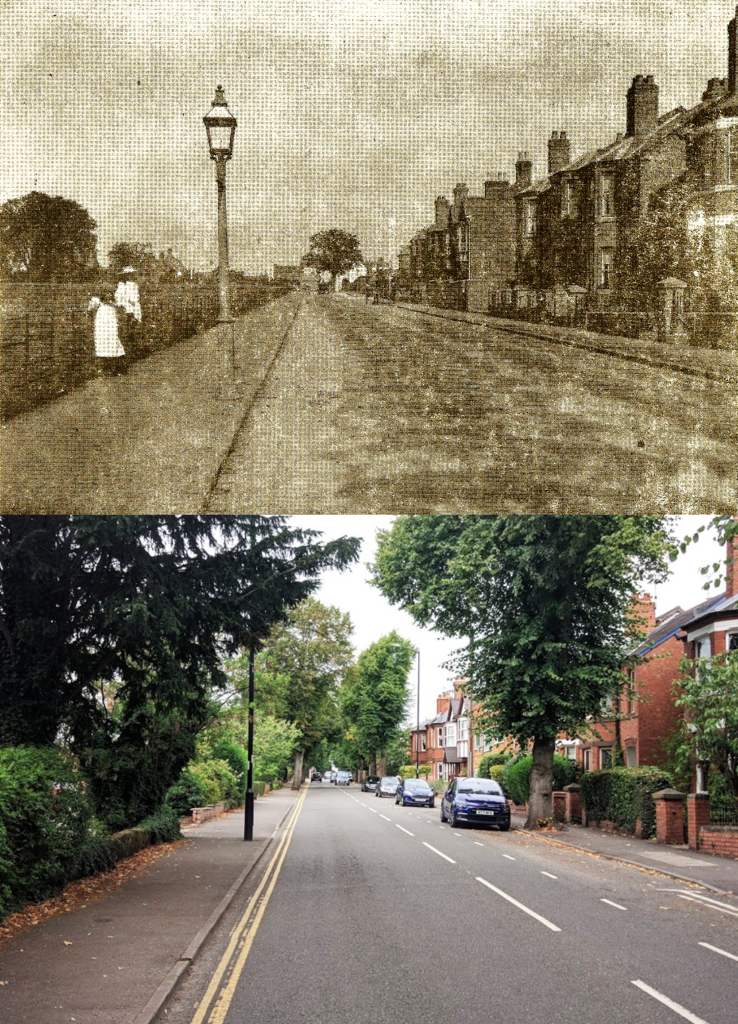 This fascinating Then & Now comparison shows a view of Priory Road at a time when the west side of the road was yet to be built upon. A pair of girls, dressed in smart white smocks and wide brimmed hats, look on curiously at the photographer. Behind them, fields stretch as far as the rear of the properties on Abbey Hill. A gas lamp stands more or less on the same spot as its modern electric replacement would later stand.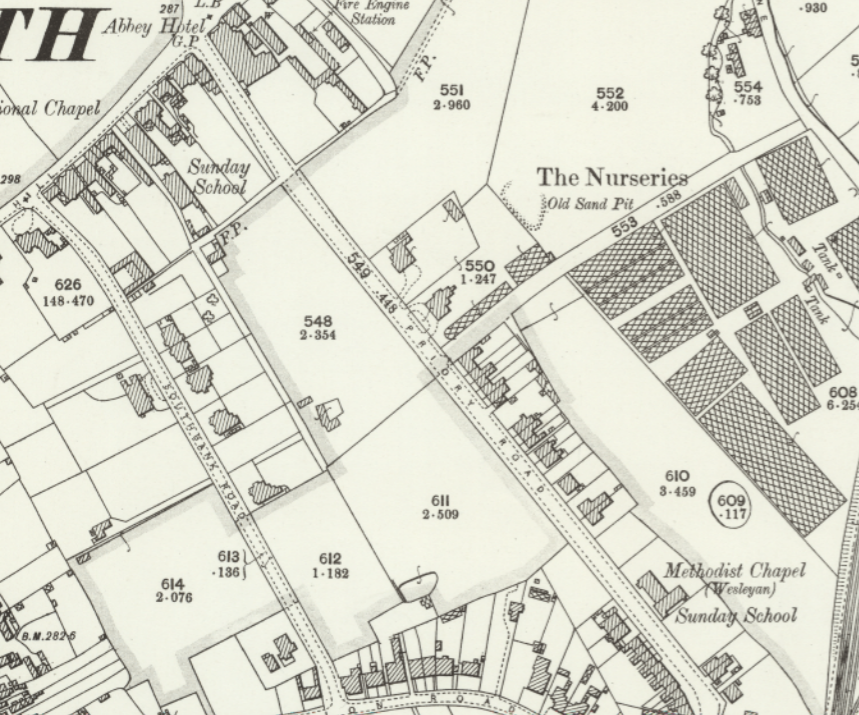 The OS 25 inch, 1892-1914 map above, also dating from the time before the west side of Priory Road was built upon, shows a plan of this scene nicely. The two then & now images above are taken from a spot next to what is labelled as field 611, looking north west. The gable end and chimneys of the Sunday School on Abbey Hill can just be seen in the distant background of the 'then' image.
According to A Portrait of Kenilworth in Street Names (Third Edition, Rookfield Publications, 2015) by Robin D Leach and Geoff Hilton, Priory Road was not built until as late as 1885, as belated access to the station from the High Street end of town. This necessitated demolition of part of the old Bowling Green Hotel on Abbey Hill. Later, the rest was cleared away to build the Abbey Hotel. It is unclear from the 'then' image as to which hotel was standing at the time the image was taken, but it is likely to be The Abbey Hotel by the time the photo was taken.
Robin Leach records in Kenilworth People & Places vol. 3 (Rookfield publications, 2003) that the plans to build Priory Road were laid down by Henry Street, who made his fortune from his Mill End fellmongery, and who was then instrumental in saving much of the Abbey Fields for the town. Steet had bought the land from his neighbor Mrs Porter and agreed not to develop the western side of the road so as not to spoil her views. Only once Mrs Porter had passed away did Street go on to sell these plots for development.
Many of the properties subsequently built over these fields date from the 1930s, as the decidedly rural Kenilworth slowly began to grow into the town we see today. The infilling of fields around the town centre would, in time, turn the town into contiguous blocks of shops and housing, forcing later developments to make the ever-expanding Kenilworth sprawl beyond its historic boundaries and into open fields – a process set to continue further, under the recently published Neighbourhood Plan.