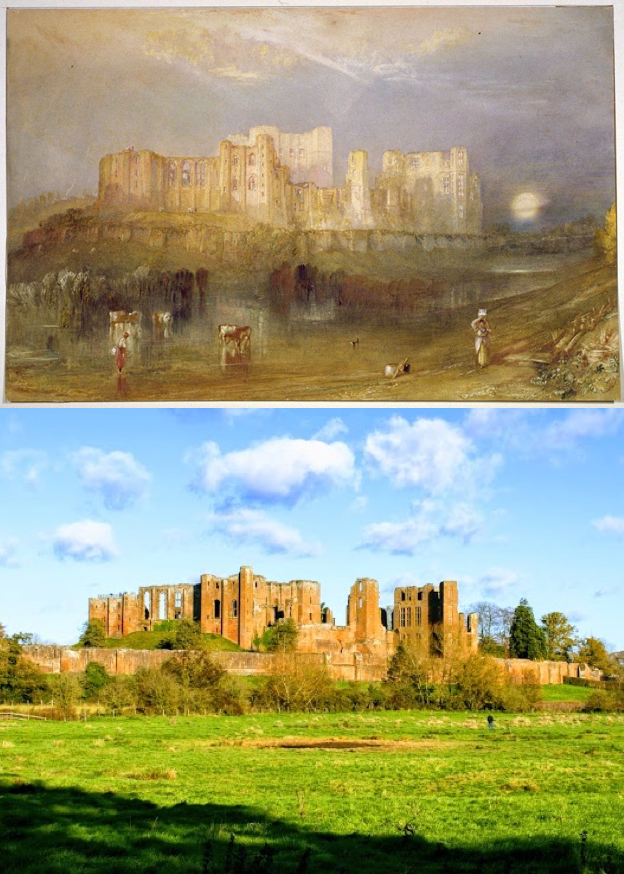 It is testament to the fame that the romantic ruins of Kenilworth Castle attained in the early 19th century that an artist of J. M. W. Turner's calibre chose to paint the scene shown here.  The painting of circa 1830, in watercolour, bodycolour and graphite on paper, is now in the Fine Arts Museums of San Francisco.
Joseph Mallord William Turner (1775–1851) became famous for images that showed scenes in dramatic lighting conditions, such as his much celebrated 1839 depiction of the warship The Fighting Temeraire being taken to be scrapped, lit by a dramatic and evocative sunset.
The Kenilworth Castle painting was produced following a number of pencil sketches over a series of 10 folios. Art historian and Turner specialist Eric Shanes concluded that the final watercolour painting, described as "an evening scene with the full moon rising" was a synthesis of sketches D22027 and D22028.
Visiting the romantic ruins of Kenilworth was very much en vogue around this time, thanks to the recent publication of Sir Walter Scott's novel Kenilworth in 1821. Scott's work inspired a flurry of artistic adaptations, including the 1828 play Amy Robsart by Victor Hugo and Gaetano Donizetti's 1829 opera Elisabetta al castello di Kenilworth, an excerpt from which can be heard here :
Turner's depiction of the 19th century castle ruins compares very favourably to the state of the ruins today. It is noticeable, however, that The Keep looms larger in Turner's depiction than in the 'now' image, which is either because the artist painted the scene from a slightly elevated position, or indeed that he exaggerated the height of the tower for dramatic effect, as artists tended to do with significant towers and spires.
Turner's Kenilworth Castle scene was also subsequently engraved by Robert Wallis as Kenilworth Castle, Warwickshire in 1832 for his Picturesque Views in England and Wales.