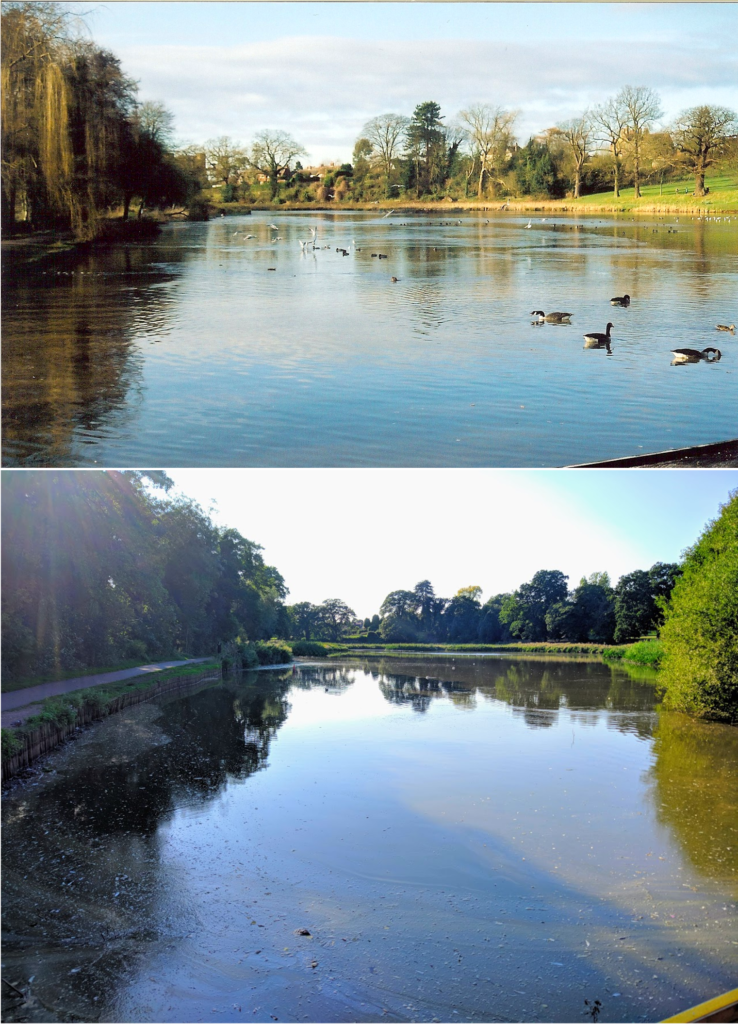 This image of the lake at Oxpen Meadow, Abbey Fields, was provided to KHAS from the collection of the late Reg Palmer. Formerly a fishpond belonging to the Abbey of St Mary up until the dissolution, Robin Leach dates its draining to become the oxpen meadow as c1650.
Harry Sunley tells us in A Kenilworth Chronology (Odibourne Press, 1989) that the council first approved the temporary re-flooding of the Oxpen Meadow for skating in December 1930. Robin leach adds, though, that the Oxpen Meadow was regularly flooded for skating, dating back to early Victorian years, and thus 1930 was not the first time. The Council flooded it from the beginning of their ownership (1884), continuing a long-standing tradition – see The Abbey Fields (Rookfield Publications, 2017).
Harry Sunley also recorded that the land sloping down from Malthouse Lane was donated by Gertrude Emily Evans in 1933 to become part of the Abbey Fields "in its natural state as open grassland". Robin Leach again adds that Gertrude's full covenants states that "The grantor as settler hereby freely and voluntarily and without valuable consideration conveys unto the Council all that piece or parcel of land formerly part of the Abbey Fields. It is hereby declared and agreed that the land hereby conveyed shall forever hereafter be preserved and kept as nearly as it may be in its natural condition as open grassland and that no buildings or erections of any kind shall at any time be built or erected thereon and that no games of any kind shall be allowed to be played thereon nor shall any artificial means of entertainment be permitted thereon"-  see The Abbey Fields (Rookfield Publications, 2017) p.95 .
Finally, having come full circle, Robin Leach records the date at which it was permanently re-flooded as 1989: "The Kenilworth Inset Plan restricts 'formal recreation' to the area already in use for swimming, tennis, bowls, and play equipment, and that the Oxpen Meadow is to become a permanent lake. The Paddock is shown as part of the park".
The Swimming Pool was rebuilt between 1984 – 1986 but at this time the permanently re-flooded lake did not yet exist. Robin add that 1989 was the date of the inset plan, not when the lake was created; so the wooden platform was built in stages from 1991 (see Abbey Fields p173 etc.).
The platform was repaired in the summer of 2018. The water in the 'now' image looks somewhat stagnant, as the photo was taken at the end of a particularly hot and dry period in August 2018. The small tree visible on the water's edge in the 'then' image (left) had fallen across the path and was removed a couple of months before the 'now' image was taken.