KHAS Affairs
It is with great regret and sadness that we must advise of the death of Betty Sunley, a much respected and loved member of KHAS. Betty's funeral is scheduled for 2.30pm on Wednesday the 3rd of April at S. Nicholas' Church, Kenilworth, followed by cremation at 4pm, and a concurrent wake at the Cricket Club.
This evening: Caroline Rann (Archaeology Projects Manager at Archaeology Warwickshire) will be speaking on 'Recent Roman Archaeological Discoveries in Warwick'.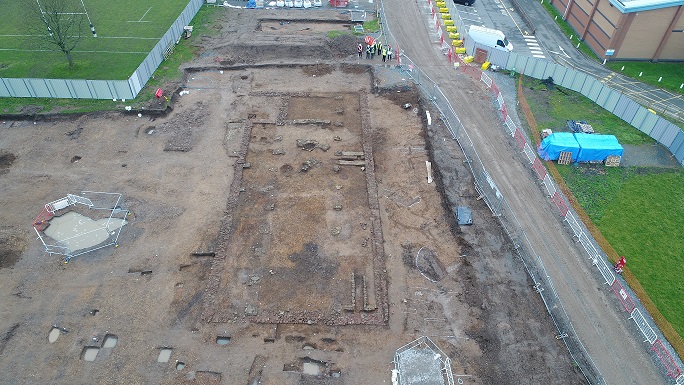 Next month: Stephen Spinks will be talking about Edward II, not one of our most distinguished sovereigns, but one with many Warwickshire connections. He will focus on The man: a doomed inheritance.
Summer Excursions: This evening Jan will be giving you details of our proposed summer outings, namely:
Monday 8th July – a private evening at Kenilworth Castle "in the footsteps of Elizabeth I";
Monday 12th August a private guided tour of Maxstoke Castle (a beautiful moated manor house) led by the owner Michael Featherstone Dilke. As many of you will know the Castle is only open to the public on one day a year and no tours are available.
HELP BRING THE HOARD HOME
Warwickshire Museum Service has launched a campaign to raise £62,000 to buy a major Roman coin hoard, found recently on Edge Hill close to the 2008 find. They have just 4 months in which to reach the target!
Your Committee has sent a donation of £50 towards this appeal on behalf of KHAS members but there is still a long way to go.
You can donate or you might fancy a Fundraising Gala Evening at the Market Hall Museum on Friday 5th April, from 7- 10 pm. Tickets available via 01926 412500. There will be a rare chance to see the pot that the coins were found in and some examples from the previous Roman hoard, along with other treasures from Roman Warwickshire….
YOU COULD BE INTERESTED IN
Kenilworth Family History Society: Wednesday 13th March 7.45pm The Kenilworth Centre CV8 1QJ. Ian Hartas (UKBMD Project): "BMDS on the internet".
Warwickshire Geological Conservation Group: Wednesday 20th March 7.30pm. St Francis Church Hall, Warwick Rd. Prof. Jane Evans (British Geol. Survey & Leicester Archaeology): Analysing the Skeleton of a King'. This talk will describe the dig and the way in which all the evidence was pieced together, from the initial discovery, through the osteological, isotope and DNA evidence in order to provide a convincing identification of the King Richard III.
Warwickshire Local History Society: Tuesday 19th March, 8pm Quaker Meeting House, High St., Warwick. David Paterson: 'George Eliot: How a North Warwickshire upbringing helped to produce one of our greatest novelists.
CADAS: Tuesday 12th March, 7.30pm. Friends Meeting Housc, Hill Street, Coventry. Dr John Hunt (Univ. Birmingham): "The Anglo-Saxon
Kingdom of Mercia.
Lapworth Local History Group: Tuesday 26th March, 7.45pm Lapworth Village Hall. Rob Eyre: "The Donald Healey Motor Company This Warwick company was responsible for some of the iconic sports cars of the 20th century.
Leamington History Group: Monday 25th March 7.30pm. Dormer Conference Centre (next to St Peter's, Dormer Place) Nigel Briggs: Sir Frederick Gibberd architect of the Spa Centre and Liverpool RC Cathedral.
Contacts: Chairman 01676-532654; Secretary-01926-858670; Treasurer 01926-852655; Newsletter Editor 01926-257250; Website www.khas.co.uk