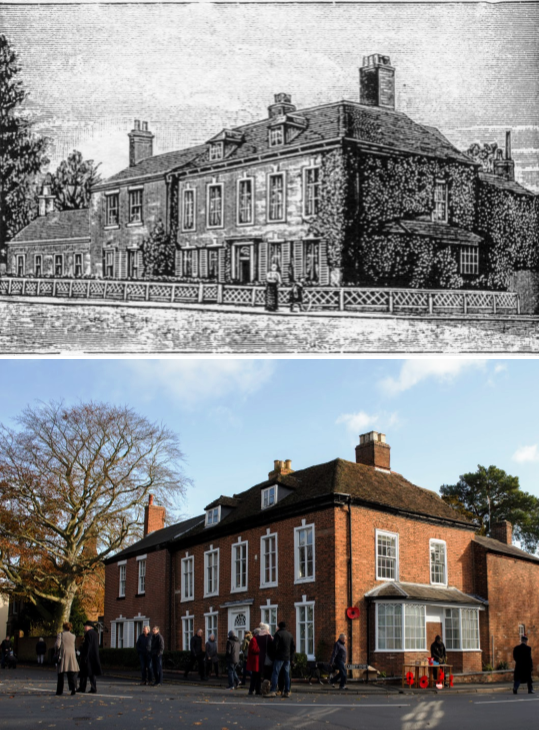 This then & now pairing shows an etching of the grand property named Cumnor House, which sits opposite the War Memorial at 17 – 19 Abbey Hill, along with a modern day equivalent photo from 2017. The name is perhaps a reference to Cumnor Place near Oxford, in which Amy Robsart, wife of Robert Dudley, lived and died in mysterious circumstances.
The property is Grade II listed as follows: "Mid C18 and later. Red brick; 2 storeys; 5 C19 plain stone transomed mullioned windows with original keyblocks and flat arches. Moulded plaster eaves; 2 hipped dormers; old tiled hipped roof. Returned side has 2 canted bay windows with Gothic glazing, both contained under slate prentice roof. Ground floor louvred shutters. 4 panel door, fanlight with radiating glazing bars; surround of flush panelled pilasters and frieze, cornice."
The etching comes from a 1902 advertisement for a "flourishing girl's academy" named The Laidies' College, Kenilworth which was run from Cumnor House by a Misses Blatch-Cox. The advertisement was provided by Joyce Powell and is now in the KHAS archives.
Joyce's excellent book Kenilworth at School – Education and Charity, 1700 – 1914 (Odibourne Press, 1991) contains a print of the full advertisement, which oddly seems more preoccupied with the location and fabric of the building itself than the nature of the education provided therein! It reads "This house is beautifully situated in its own grounds, and overlooks Kenilworth Castle and the Abbey Fields. It stands high on a deep gravel bed, well drained, and with the latest sanitary arrangements". Joyce goes on to record that the classroom wing on the left of the etching was subsequently demolished when the house ceased to be a school, some time before 1912.
Both the main Cumnor House and the smaller Little Cumnor House are now subdivided into flats. The 'now' photo was taken shortly after the Remembrance Sunday service at the cenotaph, in November 2017.