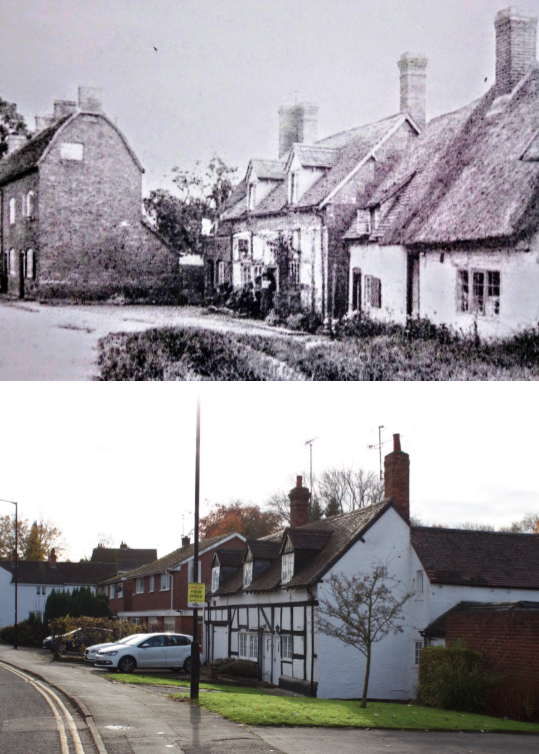 Readers of this Then & Now feature will be familiar with the fate of some of the buildings shown on this Then & Now comparison. The surviving timber framed cottage buildings in the 'now' image are Chase Cottage and Little Chase Cottage (centre). At the rear of the 'now' image we can see the white gable end of the former Drover's Inn (left).
In the foreground of the undated 'then' image is a range of cottage buildings adjoining Chase Cottage which has since been demolished. In the background of the 'then' image an imposing row of tall houses with a smart mansard roofline has also since been demolished. Out of shot to the left, another beautiful old part-sandstone, timber-framed cottage was also demolished around about the same time.
It seems that these buildings were demolished either as part of a slum clearance effort or possibly as part of a concerted road widening scheme, sometime in the mid 1960s. If it was the latter, then the scheme ended up sweeping away all of those ancient buildings except for the miraculous survival of the Drovers' Inn, which can only mean that this destructive road widening scheme never actually got completed.
A side-by-side map comparison of this area shows the extent to which these buildings jutted out into the carriageway, and in fact how the Drovers' Inn continues to do so. Once the terraced houses opposite had been built, perhaps the planners simply wanted to iron out the kink in Clinton Lane to ease the flow of traffic, which still bunches up around this area today. How sad, then, that so much history and character was swept away for a traffic scheme that was never even implemented as envisaged.