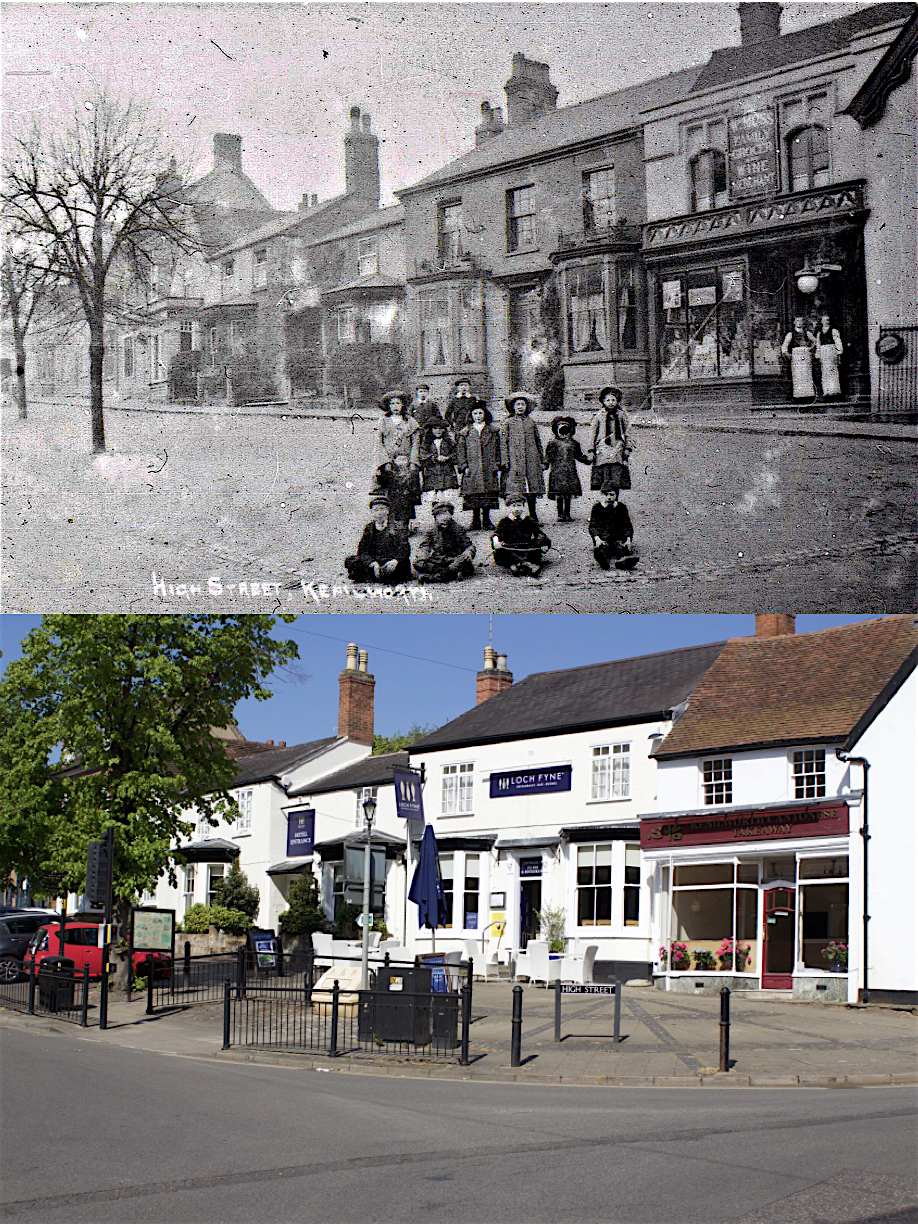 This Then & Now pair of photos shows a group of children posing for the camera at the junction of High Street, New Street, Bridge Street and Fieldgate Lane. The group was posed just off the carriageway but thanks to road widening it would not be advisable for children to linger there today!
A pair of shopkeepers look on from the door of the grocers and wine merchants, in what is today the Kenilworth Cantonese takeaway, the Grade II listed number 2, High Street. The listing for the property describes it as "Probably timber-framed building refaced with stucco in 1907. 2 storeys. 3 windows. Gable at east end. Tiled roof. Left hand C19 shop window. No 2 and Nos 6 to 16 (even) form a group." The frontage seems to have been restored back to something a little more authentic with the later facade adorning the upper floor windows having been removed in the 'now' photo.
Next door is number 6 High Street, which for many years was The Clarendon House Hotel, one of three hostelries in the town at one time named after the Earl of Kenilworth, which in the 'then' image appears still to be separate residential properties. The site is now occupied by the the seafood chain Loch Fyne and Milsoms Hotel.
Behind the tree is the tall, red-bricked number 10, High Street, which is also Grade II listed. The listing describes it as follows "Late C18 but much altered. Red brick; 2 storeys. 2 segmental headed windows with plain keyblocks. Recessed door with dentilled wood pediment weather-hood. Modern fenestration below. Boarded soffit eaves; dormers". Further up, numbers 12 – 14 which includes The Old Bakery pub, which are also Grade II listed: "C18 front to timber framed earlier building. 2 storeys. 2 windows. Red brick. Tiled roof. Casement windows. Modern shop window".