KHAS Booklet 2016
The latest KHAS annual booklet Kenilworth History 2016: Research into Local History is available for purchase at KHAS meetings, priced £5 or free to members. The Kenilworth History booklet can also be purchased from Kenilworth Books in Talisman Square and the Abbey Barn museum: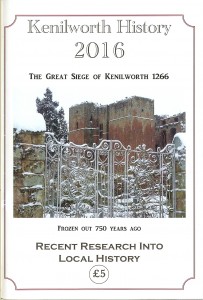 ---
Kenilworth History on CD – 1981 to 2015
A CD containing every issue of Kenilworth History from 1981 to 2015 (inclusive) is now available. It has on it also a file of all the 'Tables of Content', six spreadsheets of those contents sorted by date, author, title, and three subject categories, and one continuous file of all the KHs so that it can subjected to a wordsearch from beginning to end – a really valuable resource for any researcher. The Society is charging £5 a CD, which, if you consider that people in the Town have bought over 60 copies of KH2015 alone for £5 from the Bookshop this year, is incredibly good value for money: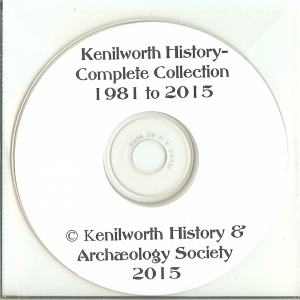 ---
Other Pamphlets
A number of pamphlets are available at a nominal fee, as well as books at a discounted rate, at KHAS meetings – see the KHAS programme page for details of where and when these take place.